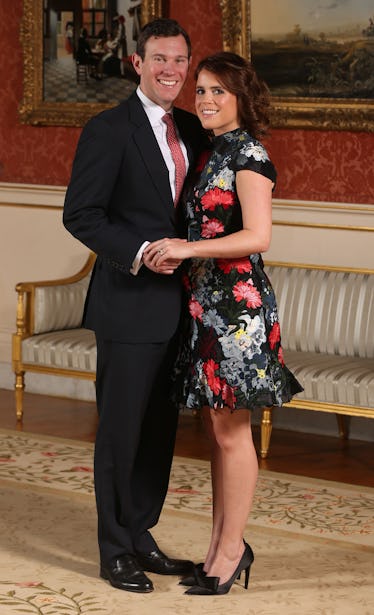 Princess Eugenie & Jack Brooksbank First Met In A Straight Up 'Frozen' Fairytale
WPA Pool/Getty Images Entertainment/Getty Images
If you think you finally shook off your royal wedding fever, get ready for a relapse, because we are just weeks away from another epic royal wedding. This time, Princess Eugenie is tying the knot with her long-time boyfriend Jack Brooksbank on Oct. 12 . If you haven't been keeping up with your royal gossip, you may be wondering, "How did Princess Eugenie and Jack Brooksbank meet?" Well, buckle up, because the incredibly romantic answer is like something straight out of a fairytale — specifically Frozen.
As the couple recounted in their engagement interview on BBC's The One Show with host Matt Baker, they first met while vacationing in the snowy mountains of Verbier, Switzerland. Eugenie described their meeting, telling Baker, "We met when I was 20 and Jack was 24 and fell in love, and we have the same passions and drive for life," adding, "It's so nice that we get to share this moment with everyone." But Brooksbank has a more romantic recollection of their first meeting. They were introduced by mutual friends, he said, and as soon as the two laid eyes on one another it was a case of "love at first sight."
What I'm trying to say here is this couple's love story is one singing snowman shy of a Disney film.
According to friends of the couple who spoke with Daily Mail, they've been going strong and steady ever since that first day, stating "There was an immediate attraction and since that meeting, they have barely been apart... Eugenie was studying at Newcastle when they met and Jack was working in London, but they made the relationship work." Seven years later, they're engaged and set to head down the aisle.
As for how Brooksbank popped the question, again, it's like something out of a fairytale. As he tells it, the proposal happened while the two were visiting Nicaragua — which made for an incredible romantic backdrop. Brooksbank described the scene in the engagement interview, saying it was a "beautiful volcano, summer setting, birds are flying." As you might guess, Eugenie was impressed. "The lake was so beautiful," she said. "The light was just a special light I had never seen." Despite having been together for several years, Brooksbank still managed to catch the Princess off guard. "I actually said this is an incredible moment," Eugenie described, "and then he popped the question, which was really surprising even though we have been together seven years. I was over the moon."
Obviously, Eugenie said yes, and now we're in the final countdown to the wedding, which, of course, is going to be an over-the-top affair. Like Prince Harry and Meghan Markle, the couple is set to be wed at St George's Chapel at Windsor Castle. But the couple is actually bucking tradition by having a two-day wedding. On day one, they will have the ceremony followed by the traditional carriage ride. However, the following day the couple is continuing the festivities by hosting an event that will, according to The Times, be a "festival and funfair" party on the grounds of the Royal Lodge. At this gathering, they intend to have a much more relaxed vibe. The Times reports that there will be "dodgems and fun-fair rides, coconut shies, lots of food stalls, loads of cocktails, bloody Mary's for the hangovers and a festival vibe." Thus, proving Eugenie and Brooksbank truly are the coolest royals.
I don't know about you, but this wedding sounds like it's going to be a royal blast. And honestly, after learning about this couple's love story, I wouldn't expect anything less. So, if you happen to have an extra plus one invite laying around, send it my way!
Check out the "Best of Elite Daily" stream in the Bustle App for more stories just like this!