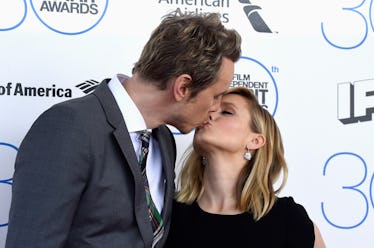 The Sneaky Way Kristen Bell Impressed Dax Shepard When They Started Dating
Frazer Harrison/Getty Images Entertainment/Getty Images
Kristen Bell and Dax Shepard are one of Hollywood's favorite couples: the two comedians have never shied away from being publicly affectionate, making each other, along with rest of America, literally LOL. But how did Kristen Bell and Dax Shepard start dating? According to Bell, the start of their relationship wasn't as smooth as you might think.
Shepard is a motorcycle aficionado, and in an attempt to impress him, Bell resolved to get her motorcycle license. She took the course in secret, and presented Shepard with her license and accompanying photo. Shepard reportedly couldn't hold back his laughter — especially since Bell's bike was severely lacking in side mirrors. "Look, I rode hard," Bell said on Jimmy Kimmel Live. She intended to prove that she was cool as a cucumber.
Once she had achieved her goal, Bell reportedly vowed to never get back on the bike. "Look, we're married. I can tell you," Bell told Kimmel, while gesturing to her wedding ring. "I don't want to drive those things. They are terrifying." And just like that, Bell's motorcycle diary days were behind her.
But Bell did have to ride again, while the two were filming the romantic comedy When in Rome, things took an unexpected turn. While the two were shooting a scene, Shepard reportedly looked over and found Bell in tears. As it turns out, she'd suffered a serious injury. "I was wearing linen pants and I touched the side of the bike. It burnt a hole through my linen pants and gave me a very serious second-degree burn, the muscle was exposed," Bell told Kimmel. Apparently, Shepherd had warned her about the heat of the bike, but Bell pretended she already knew. Ah, the things we do for love.
So, why the heck did Bell stay silent on the set about the searing pain in her leg? Easy — she wanted to prove to Shepard that was a total pro. "My goal was to bag Dax Shepard," Bell said. You know what they say: no pain, no gain! And in this case, love most definitely is pain.
Luckily, Bell's days of trying to seduce her Shepard with heavy machinery are way behind her. The two have been married since 2013, and share two children, Delta and Lincoln. And while Bell no longer needs to surprise Shepard with her hidden 'cool factor', her husband has since stepped up and fully returned the favor. You know how Shepard loves motorcycles? Bell feels the same way — about sloths. So for Bell's 31st birthday, Shepard notoriously surprised her by bringing her an IRL sloth.
"If you have emotions from one to 10, if I'm not between a three and a seven, I'm crying," Bell said on Ellen, recounting her full-on meltdown from seeing the sloth. She was so happy that she broke out in hysterics — and Shepard was right there with her.
You know what they say — the couple that keeps each other guessing, stays together! And these two are constantly keeping each other on their toes, or rather, their wheels.
Check out the entire Gen Why series and other videos on Facebook and the Bustle app across Apple TV, Roku, and Amazon Fire TV.
Check out the "Best of Elite Daily" stream in the Bustle App for more stories just like this!