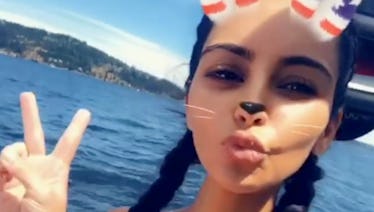 Here's How Celebrities Celebrated The Fourth Of July While You Were Probably Playing With Sparklers
Instagram / Kim Kardashian West
You've heard it a million times before — celebrities really are just like us. They spend their holidays going on expensive vacations, throwing epic pool parties, hiring professional chefs, and... wait a minute. JK! How celebrities celebrated the Fourth Of July was like the average American family on Pop Rocks. Fan-favorite famous people (FFFPs, as I like to call them) celebrated America's birthday in seriously entertaining and jealousy-inducing ways, and I don't blame them. A national holiday in the middle of the work week when you have access to things like vacation homes, personal assistants to handle your work schedule, and delicious food at your beck and call? Sounds like a great freaking time to be a celeb to me!
Most of us settle for a cold Bud Light and a hotdog, which is actually a pretty A-OK time, too. But, when you're a celebrity, you can really up the ante. Holidays are my favorite times to take a few minutes out of my day and stalk my personal icons to see what they're up to and what my life could look like if I just did everything 100 percent differently from the beginning. Admittedly, our nation has been going through a rough patch, but watching Zac Efron set off a firework can help take the edge off, if even just a little.
Here's how he and few other celebrities celebrated this Fourth of July.