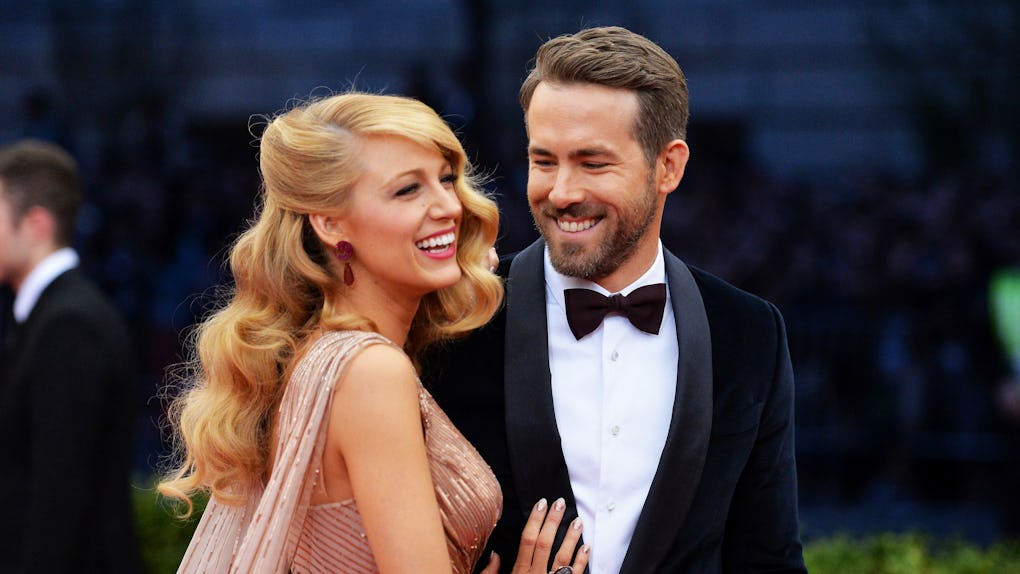 Mike Coppola/Getty Images Entertainment/Getty Images
How Blake Lively & Ryan Reynolds Celebrated Their 6th Anniversary Is So Sweet, I Can't Deal
It's been six years since Blake Lively and Ryan Reynolds tied the knot and they celebrated their anniversary in the most ordinary way you can imagine this year: by doing absolutely nothing. Lively appeared on Good Morning America on Wednesday, Sept. 12, to promote her new movie A Simple Favor. During the interview, she dished about the film as well as her marriage, including how they fit anniversary celebrations into their busy schedules. How Blake Lively and Ryan Reynolds spent their sixth anniversary will definitely make you smile.
Lively and Reynolds celebrated their wedding anniversary on Sunday, Sept. 9. When asked by the folks over at Good Morning America how she and her hubby spent the day, Lively revealed that it was all about the family.
"The best vacation we can have is to be able to do nothing with our family, so that's what we did," Lively said during her interview on Good Morning America.
Is that not the best possible way to spend an anniversary? Just hanging around with your loved ones and enjoying each other's company sounds like a pretty sweet deal.
Lively and Reynolds have two children together, 3-year-old James and 1-year-old Inez. Apparently, little James had some questions about what an anniversary is, so Lively had to take some time to explain the whole concept to her.
"I had to explain to my daughter what an anniversary is," the actress said. "She's like, 'What is it, does it mean you're having another baby today?' and I was like, 'Dear God, no. It doesn't, it means it's our wedding's birthday.'"
Aw, kids are so cute and curious at that age! But Lively's explanation makes perfect sense.
While all that was going on at home, Lively and Reynolds were essentially roasting each other on social media. Reynolds shared an Instagram photo of a van bearing a larger-than-life image of him in an ad for his side gig, Aviation Gin. In the comments, Lively gave the most hilarious hot take ever.
"Who needs a mini van?! I'm driving this from now on," the actress wrote. "Subtle, gorgeous, and OHMYGAWDYOUREHUGE."
In addition to chatting about her anniversary, Lively also spoke to GMA about how proud she is that her daughter James made a cameo on Taylor Swift's song "Gorgeous."
"We were very embarrassing," Lively said of her and Reynolds' reactions to hearing James while attending one of Swift's Reputation Tour concerts earlier in the summer.
As proud a moment as that was for Lively and Reynolds, they're not quite ready to let their kids hop into the spotlight just yet. Well, at least according to Lively.
"Our kids have very normal lives, as much as that's possible," Lively said. "So, she didn't even get a title on the album."
Even though Lively and Reynolds aren't priming their kids for primetime, at least James can say she was once featured on a Taylor Swift song. That's a better claim to fame than the ones most other people get to enjoy! So, at least there's that.
In any case, Blake and Lively seem like lovely parents and even lovelier partners in crime. Here's hoping they share many more years together.