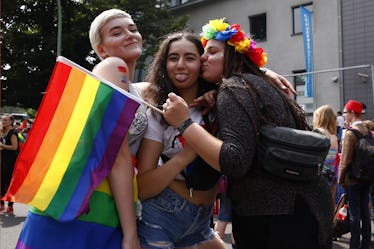 How Allies Can Support Pride Without Exploiting It For Likes, Even After The Month Ends
Michele Tantussi/Getty Images News/Getty Images
My first Pride was six years ago, and I still remember it like it was yesterday. I had only come out as lesbian a few months before, and my mom and stepdad went with 16-year-old me to an event called Pride Fest 2012 in Wilton Manors, Florida. Rainbow flags covered the streets, and it was the first time I had ever seen so many people like myself in the one place — much less celebrated front and center. It was then that I started to learn how important it is for everyone, even those who aren't in the LGBTQ+ community, to support Pride.
Since that day, Pride has become something so sacred and special to me. Anyone in the LGBTQ+ community will say the same; we each have our own unique experiences and journeys that have led us to Pride. Each June, I wear a rainbow flag across my shoulders and march alongside thousands of people just like me. I've experienced the magic of Pride in multiple cities with different groups of people over the years, and the sentiment and significance remains the same. And while it's incredible to see crowds growing each year, and to have more support from the straight community, it's important to remember the real reason for Pride.
This June, conversations surrounding Pride month are flooding social media for what feels like more than ever before. While bringing the LGBTQ+ community to light is much-needed, it feels like Pride is becoming more of a trend than a continuous fight, which is especially disconcerting in light of our current political climate. I've been seeing this exploitation often, especially from straight cis people participating in Pride events, which takes away from the heart of the movement and isn't, in actuality, helpful to the community at large.
As a woman who likes women, it's hard to see social media posts of straight, cis women kissing, with captions such as "best friend love is love is love too" or "it's OK for girls to like girls, too!" I see posts of people who aren't in the community wearing rainbows and smiling with captions like "so proud!" on my newsfeed. Don't get me wrong — intentions to show up and support a minority community are good, but it's important to be an effective ally throughout Pride month and beyond.
To straight people attending Pride: I am so glad you are here and taking the time to show up for the LGBTQ+ community. But please remember, this is not about you, and I would appreciate you taking the backseat on this one. While Pride is in some ways a party, if you are strictly here for one, you're here for the wrong reasons.
The rainbow colors you're sporting are not always granted celebration, but have been used as a target throughout history. The Pride flag is not your fashion. What you can take on and off today, and choose to support when timely and mainstream, the LGBTQ+ community wears like battle scars when holding a partner's hand on a walk down the street or while dancing together in a bar.
Please understand that this is the only time and place where many people can look around a room at an event and not feel excluded or different. It's more than a party; it's a safe haven. It's more than a parade; it's a movement. It's more than being a majority for once; it's a therapy. It's reality. And I would love it if you would help cultivate, rather than infiltrate, these safe spaces.
Please keep showing up, because the LGBTQ+ community needs your support now more than ever before. But remember that Pride is not a circus of performers for your speculation, but rather, a community that is constantly fighting for acceptance and progression.
You can be an effective ally by standing up against Trump's effort to ban trans people from serving in the military, volunteering for The Trevor Project's crisis hotline to provide support to LGBTQ+ youth, donating to the Rossiyaka LGBT Network in wake of the persecution of LGBTQ+ people in Chechnya, or simply standing up to homophobic comments in everyday life. You can still attend Pride, but understand where the spotlight should be: on the LGBTQ+ community. It's about more than likes or views on a social media post for doing something often perceived as trendy with your weekend. Because while this month seeks to bring awareness to the LGBTQ+ community, your "pride" shouldn't end on June 30, and your efforts should extend beyond a Snapchat post.