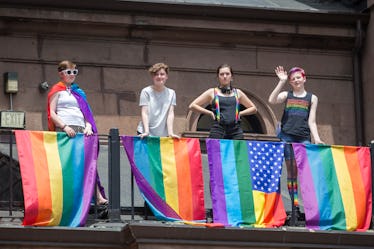 10 Stunning Photos From Pride Parades Around The World That Prove Love Is Love
Scott Eisen/Getty Images News/Getty Images
I love June for many reasons: it finally gets warm out, it feels like summer vacation, and everyone is in a good mood. June is love! Most importantly, June is about celebrating all kinds of love. June is Lesbian, Gay, Bisexual and Transgender Pride Month in the United States. I live in New York where the LGBTQ+ Pride parade here is epic and beautiful. There are equally huge festivities all across the world, and the Pride parade photos from the celebrations brought tears to my eyes. Because if you don't know this, you're wrong: love is love is love.
From rainbow flags to festive music on the streets, Pride parades around the world are a really excellent reminder that we're all human, we're all just trying to be ourselves, and we should all be kind to each other. The LGBTQ+ community has suffered and still suffers discrimination and injustices, so these displays of pride and solidarity from the community all over the world are so special to see.
It doesn't hurt that Pride parades are also incredibly aesthetically pleasing — rainbows make for excellent photos. From Tel Aviv to Tokyo, here are some of the most festive photos from Pride celebrations around the world.