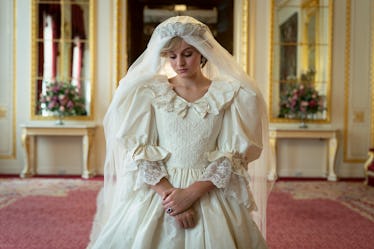 Here's What 'The Crown' Gets Right & Wrong About Charles & Diana's Relationship
Netflix
The Crown has always been about the story of Queen Elizabeth's reign. But in the 1980s, two other women took center stage alongside her. In politics, there was Margaret Thatcher, and in family, there was Lady Diana Spencer. Though the story remains Elizabeth's, both women get their due in Season 4. In particular, Diana's relationship with Prince Charles dominates nearly half the season, and it's not always the most flattering portrait of either character. So, how accurate is Charles and Diana's relationship in The Crown? As always, it's a blend of real life and fiction.
Warning: Spoilers for The Crown Season 4 follow. Fans are well aware The Crown takes liberties with the truth. Episodes like Season 2's "Mystery Man" rest on Philip's rumored connections to a dead man and conflates them into a tale of infidelity, for instance. Season 3 took liberties with Margaret's trip to the White House in "Margaretology" to spin a fantasy of Margot and Lyndon B. Johnson drinking each other under the table.
When it comes to Season 4, the series does the same. For example, Diana's trip to Balmoral did not actually happen the same weekend as Thatcher's first time there — that's just good storytelling and juxtaposition. But when it comes to Diana and Charles' relationship, though details are fudged, the series paints a pretty accurate emotional portrait.