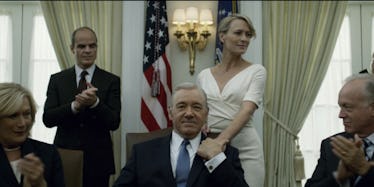 'House Of Cards' May Be Ending, But There Are A Few Spinoffs In The Works
Netflix
The House of Cards may not be falling down after all... or at least not completely. Although Netflix announced that it would be ending its landmark original series, the streaming service is still developing a few spinoff ideas that could keep the political drama going. Netflix is in the early stages of development for three House of Cards spinoff series, one of which may take the long-running show's place after it ends next year, according to Variety.
One of the potential spinoffs will focus on Michael Kelly's character of Doug Stamper, Frank Underwood's fiercely loyal chief or staff. Doug has been largely responsible for actually carrying out Frank's more dastardly schemes that helped Underwood ascend the political ladder, doing pretty much anything that's been asked of him no matter how bloody. The Doug-centric spinoff is being written by Eric Roth, an executive producer on House of Cards for its first four seasons.
As for the other two spinoffs, there's no info about who's involved or which characters they may focus on. The most obvious pitch would be a series about Claire Underwood, Robin Wright's character who has proven herself to be just as conniving as her husband Frank Underwood, even taking over the presidency from him in the most recent fifth season.
The spinoffs news immediately follows Netflix's announcement that the upcoming sixth season of House of Cards will be the final season. This also comes amid public allegations of sexual harassment against the show's star Kevin Spacey. Over the weekend, actor Anthony Rapp (best known for starring in Rent) said that when he was 14 years old, a then-26-year-old Kevin Spacey attempted to "seduce" him on a bed. Spacey responded to the allegations by saying he doesn't remember the drunken behavior, and also used the opportunity to publicly come out as gay.
The allegations against Spacey as well as his controversial response to them drew intense backlash online. After Netflix announced that House of Cards would be ending with its next season, many fans immediately presumed the streaming service was motivated by the recent Spacey allegations. Apparently, ending with the sixth season has been the plan for a while for the show, but obviously the timing of the announcement is suspect.
Going the spinoff route actually makes a lot of sense for Netflix, since the network likely wants to keep its flagship original series going in some respect but also was probably looking for a way to cut ties with the show's controversial star in light of the allegations. By developing three different possible House of Cards spinoffs, Netflix is following the lead of HBO. Earlier this year, HBO announced it was developing four Game of Thrones spinoff series to keep the world of the ultra-popular fantasy series alive after that show ends next season.
Whatever was behind the decision to end House of Cards, it is a major shift for Netflix. Back in 2013, House of Cards effectively launched Netflix's original programming, which has now expanded exponentially with the streaming service now focusing almost exclusively on pushing out tons of original content. The success of House of Cards and Netflix's other early original hit Orange Is the New Black also inspired competitors like Hulu and Amazon to acquire their own original projects, which of course led to the streaming boom we're in right now. Over its five seasons, House of Cards has garnered 53 Emmy nominations, and took home 7 Emmys (mostly in technical categories).
The spinoffs are still reportedly in the early stages of development, so we probably won't be seeing them anytime soon. The sixth and final season of House of Cards will premiere sometime in 2018.