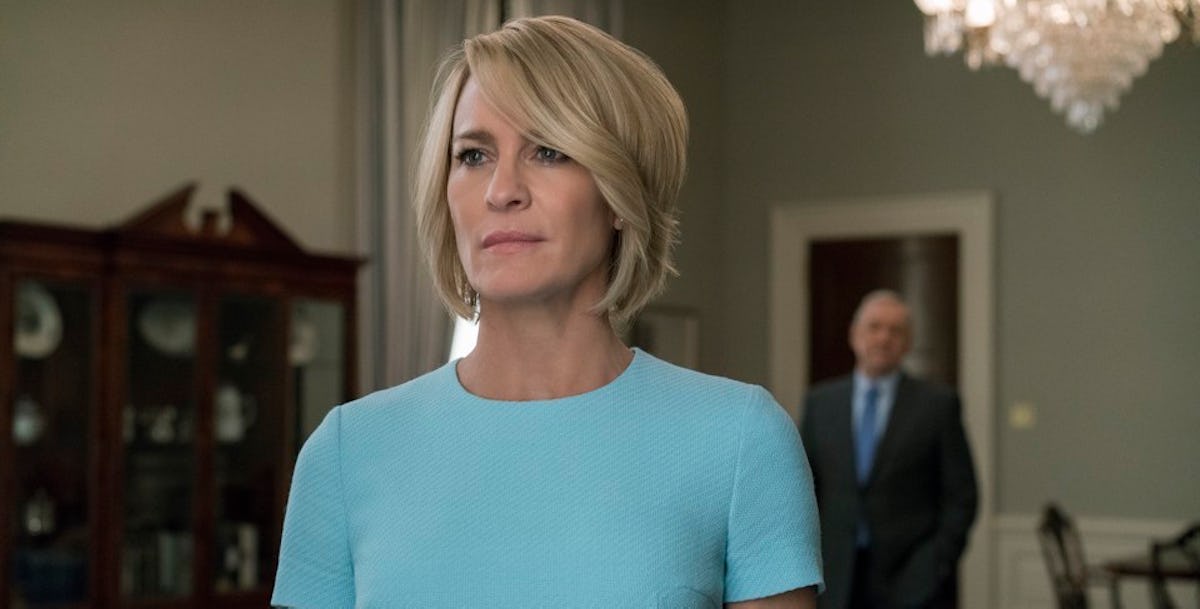 'House Of Cards' Season 6 Will Star Robin Wright & Fans Are Thrilled
Netflix
Out with the accused predators, and in with the powerful women. That tricky House of Cards problem was just officially solved with the answer that fans of the show have been wanting forever anyways: Just let Robin Wright do it. Netflix has confirmed that production on the sixth and final season of House of Cards will resume in 2018, and that Kevin Spacey will not be a part of it. Instead, Robin Wright will be the star of House of Cards' final season.
This shift from Kevin Spacey to Robin Wright has been widely speculated since House of Cards halted production on its sixth season last month following public allegations that Spacey had sexually harassed underage boys and young men in the past, along with men working who worked on the set of the Netflix political drama with him. Following those allegations, Netflix released a statement that they would not work with Spacey any more.
On Monday morning, Netflix's content chief Ted Sarandos announced that production will resume on the sixth season of House of Cards in early 2018, and with Spacey's character of Frank Underwood out of the picture, the series will be shifting focus so that Robin Wright's Claire Underwood will be the main star. It's totally the best choice (and a pretty obvious one) that Netflix could have made, and House of Cards fans are already rejoicing at the prospect of Claire Underwood taking control of the show. Check out some of the best reactions below:
In case you weren't in the know, Robin Wright has been the second lead on House of Cards for its first five seasons, playing Frank Underwood's equally cutthroat and devious, ladder-climbing wife Claire. Though she started out on the series mostly as Frank's right hand in helping him ascend to the presidency, recent seasons have actually found her coming into more power herself. In fact, the most recent season concluded with [spoiler alert] Claire becoming the president herself and letting Frank be taken away to prison, closing out Season 5 by turning to the camera and saying, "My turn." Given that recent development, the show's shift to focus solely on Claire in its final season makes even more sense.
Netflix also gave fans more details on the upcoming final season of House of Cards. Unlike past seasons that all consisted of 13 episodes, the new season will be shortened to eight episodes. That is likely due to the show's sudden firing of Kevin Spacey — the House of Cards writers had reportedly already completed the script for the new season before Rent star Anthony Rapp opened the floodgates of allegations against Spacey that led to his termination. If Frank Underwood did appear in any of those final episodes (which he probably did), then the writing team will need to write him out before production resumes in the next month or so.
Then again, getting rid of Frank Underwood is actually a pretty logical next step for House of Cards, even with all the Kevin Spacey mess aside. The novel by Michael Dobbs that the TV show is based on has Frank dying at the end, and the show has clearly been starting to favor Claire's rise to power much more in the last season.
As for when we can expect to see the sixth and final season of House of Cards land on Netflix, that's another question that's still up in the air. It seemed as though the show was following a similar production cycle as last season (shooting in the fall and aiming for a summer premiere), but with the big interruption, Season 6 will likely come closer to the end of 2018. Then again, it is five less episodes than past season, so who knows; they might just be ready for a summer premiere.