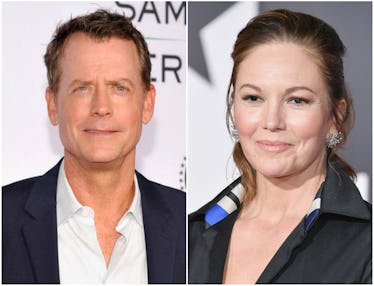 'House Of Cards' Just Added 2 Major Actors For Its Final Season & Fans Are Cheering
John Sciulli/Getty Images Entertainment/Getty Images & Neilson Barnard/Getty Images Entertainment/Getty Images
When allegations of sexual assault and harassment were made against its star Kevin Spacey last year, House of Cards' future looked grim. Netflix cut all ties with Spacey and briefly suspended the show's production, but soon announced that lead actress Robin Wright would headline the cast in a sixth and final season. Now with production of Season 6 underway, House of Cards has also added Greg Kinnear and Diane Lane to its acclaimed cast. Talk about going out with a bang!
Major details about the new actors' roles are still a secret, but Variety reports that the pair will play siblings. Their characters join the cast for an eight-episode finale season without Spacey's involvement. The season will likely pick off from the ending of Season 5, in which Wright's Claire Underwood began her tenure as President of the United States after her husband Frank, played by Spacey, resigned. Also appearing in the last season are Michael Kelly, Jayne Atkinson, Patricia Clarkson, Constance Zimmer, Derek Cecil, Campbell Scott, and Boris McGiver.
In a chilling moment that almost foreshadowed what would emerge in Hollywood throughout the second half of 2017, the final scene of Season 5 concluded with Claire breaking the fourth wall and telling the camera, "My turn."
Spacey was fired from the series after sexual harassment allegations against him poured out following actor Anthony Rapp's initial accusation that Spacey made sexual advances on him when the former child star was only 14 years old. Spacey apologized for his treatment of Rapp in a Twitter post, using the opportunity to come out as a gay man.
Soon after his statement, when another actor came forward with similar claims, Spacey's representatives said in November 2017 that he would seek treatment for his behavior. He has not publicly addressed any accusations against him that were shared since then.
Among his accusers were eight current and former employees of House of Cards who either witnessed or experienced sexual misconduct from Spacey. In response to the claims, Netflix released a statement about its investigative work with the show's production company, Media Rights Capital (MRC):
Netflix was just made aware of one incident, five years ago, that we were informed was resolved swiftly. On Tuesday, in collaboration with MRC, we suspended production, knowing that Kevin Spacey wasn't scheduled to work until Wednesday. Netflix is not aware of any other incidents involving Kevin Spacey on-set. We continue to collaborate with MRC and other production partners to maintain a safe and respectful working environment. We will continue to work with MRC during this hiatus time to evaluate our path forward as it relates to the production, and have nothing further to share at this time.
MRC also commented on the claims:
As the producer of the show, creating and maintaining a safe working environment for our cast and crew has always been our top priority. We have consistently reinforced the importance of employees reporting any incident without fear of retaliation and we have investigated and taken appropriate actions following any complaints. For example, during our first year of production in 2012, someone on the crew shared a complaint about a specific remark and gesture made by Kevin Spacey. Immediate action was taken following our review of the situation and we are confident the issue was resolved promptly to the satisfaction of all involved. Mr. Spacey willingly participated in a training process and since that time MRC has not been made aware of any other complaints involving Mr. Spacey.
Clearly, the decision to add Kinnear and Lane is proof that House of Cards will still deliver a strong storyline without Spacey. Both actors have hefty resumes to their name. Lane is best known for her Oscar-nominated work in the film Unfaithful, as well as roles in Under the Tuscan Sun and recent DC Extended Universe films such as Man of Steel. House of Cards will mark her first job as a TV series regular. Kinnear also received an Oscar nomination for his role in As Good as It Gets and has appeared in You've Got Mail and Little Miss Sunshine.
Fans of the series are thrilled about the additions, and some people who have never watched House of Cards even seem compelled to start after this casting news:
Netflix has yet to release a premiere date for Season 6, but we wish the best of luck to Kinnear, Lane, and the rest of the House of Cards cast as they conclude the series.