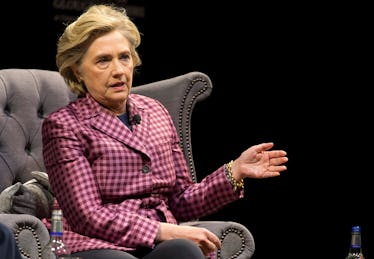 GOP Opened Another Investigation On Hillary's Emails & OMG Are We Still Discussing This?
Matthew Horwood/Getty Images News/Getty Images
Hillary Clinton's emails are the scandal that will never die, despite every suffering, gasping breath that you think must be its last. Nope. Even though Clinton did not, in fact, win the presidency, her use of a private email account while serving as Secretary of State is still apparently a public concern. Which is why House Republicans opened another investigation into Hillary Clinton's emails this week.
It's kind of appropriate that Halloween is only around the corner, because when Bob Goodlatte (R-Va.) and Trey Gowdy (R-S.C.) announced in a joint statement on Oct. 24 that they were launching an investigation into the Department of Justice's handling of the probe into Clinton's emails in 2016, it kind of felt like a zombie rising from the grave.
"Decisions made by the Department of Justice in 2016 have led to a host of outstanding questions that must be answered," the statement read in part. It continued on to list the questions that would be examined by the investigation:
FBI's decision to publicly announce the investigation into Secretary Clinton's handling of classified information but not to publicly announce the investigation into campaign associates of then-candidate Donald Trump; FBI's decision to notify Congress by formal letter of the status of the investigation both in October and November of 2016; FBI's decision to appropriate full decision making in respect to charging or not charging Secretary Clinton to the FBI rather than the DOJ; [and] FBI's timeline in respect to charging decisions.
Goodlatte and Gowdy are Chairmen of the House Judiciary Committee and House Oversight and Government Reform Committee, respectively.
During the 2016 presidential election, Clinton was dogged by accusations that she had misused a private email server while serving as secretary of state from 2009-2013 under the Obama administration. Clinton was accused of potentially mishandling classified information and leaving it vulnerable, and critics questioned whether she had flouted government transparency requirements.
After an investigation, the FBI advised in July of 2016 that though Clinton's handling of classified information was "extremely careless," it hadn't found evidence that Clinton had intended to violate the law, and noted that the mistakes seemed to be part of a department-wide problem. "Our view [is] that no charges are appropriate in this case," then-FBI Director James Comey said.
Nevertheless, the emails have continued to be a point of contention on both sides. The right-wing crowd believes that Clinton was let off the hook for supposed crimes, while the left cried foul over Comey's decision in late October 2016 to announce that he was reopening the investigation into the emails, a choice which many believe cost Clinton the election. (Nothing came of the reopened investigation.)
So, basically, this is never going away.
The apocalypse will come and go, and we'll still be arguing about Clinton's emails in the rubble of the Statue of Liberty while we try to light a fire to heat our roasted-cockroach dinner.
Several top Democrats have already called out the new move for supposedly trying to distract attention from the ongoing investigation into possible collusion between President Donald Trump's presidential campaign and Russia.
A joint statement from Rep. Elijah Cummings (D-Md.) and Rep. John Conyers Jr. (D-Mich.), top Democrats on the House Committee on Oversight and Government Reform and the House Committee on the Judiciary respectively, didn't pull any punches. It read in part,
This new investigation is a massive diversion to distract from the lack of Republican oversight of the Trump Administration and the national security threat that Russia poses. Ten months into the Trump Administration and House Republicans still have not held a single substantive oversight hearing on clear abuses by the President or his top aides. That amounts to ten months of abdication of responsibility  —  a near total failure to question, investigate, or challenge the President or the White House, including on grave allegations of obstruction of justice.
I mean, that's a fair point, particularly if you consider that Clinton's been used as a distraction from Russia before.
The handling of Clinton's email scandal was used as an excuse to dismiss Comey back in May of this year, possibly because Comey refused to drop a probe into then-National Security Adviser Mike Flynn's connections to Russia. So, it's not implausible.
On the other hand? But her emails.