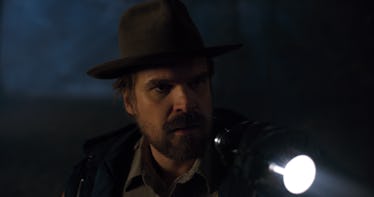 Hopper From 'Stranger Things' Is Officially Hawkins' Hot Dad IRL
Netflix
Everyone is thrilled, excited, eager, and super scared that season two of Stranger Things is almost here! It's coming for us all on Oct. 27, 2017, and I couldn't be more excited. Fans around the world are freaking out!.That's why we must obsess over literally every, tiny detail of the show. It's the best way to get into the spirit of all things stranger. See what I did there? Remember the suspicious but heroic police officer, Hopper, in Stranger Things? Well, he's a total DILF, and we must celebrate that. So, what does Hopper look like in real life?
If you totally forgot who Hopper is in Stranger Things, I will refresh your memory. Hopper is the chief of police in the small town of Hawkins, Indiana. Hopper is in charge of the case of missing Will Byers. Gah, Stranger Things is SUCH A GOOD SHOW.
In real life, Hopper is played by actor David Harbour. You may recognize Harbour from films like Suicide Squad and Revolutionary Road. He was also recently cast to play the new Hellboy, and fans of the film and graphic novel are stoked. This guy's career is just getting started. Although his character is a bit of a mess in Stranger Things, he is the opposite of that in real life. The man is really good-looking and completely put together. Hello, Chief Hopper! Let's take a looksie at his life, and admire those baby blue eyes.
Whoa. The man knows how to clean up.
Just look at this stunner from the Emmy Awards. Chief Hopper would never wear this.
Chief Hopper looking serious as usual. What is he even looking at?
This is definitely the dark, rugged man that Hawkins, Indiana needed. Honestly, though, thank god for him. He was brave enough to break into the weird science lab. Was that a spoiler alert? Am I too late?
"Mornings are for coffee and contemplation." Best quote ever.
I know what I'll be saying at the office in the morning now. Sorry, not sorry.
Everyone loves Chief Hopper.
A Twitter fan said, "I think my favorite character from #StrangerThings is Chief Hopper. I found his tragic backstory & path of redemption to be very compelling." Well, well, well. His character is intriguing and attractive. I totally get it.
That smile though.
Did Chief Hopper smile once in Stranger Things? I just remember a lot of very frightening scowls. It's good to know he's got a sense of humor in there somewhere.
Look at him taking the stage by storm.
Harbour is a man of the stage. The entire cast looks so proud and honored to be up there with him. I love them all. *Sigh.*
The most focused man on the planet.
Seriously.
I love when he wears this hat. He looks like an '80s hipster cop, and it's magic.
It's official. He is the father of Stranger Things.
The long beard and the short hair is everything. It's perfect.
Harbour looks like a cowboy businessman in this pic. I'm in.
Beard. Check. Cool hat. Check. All black. Check. Beautiful eyes. Check.
Need I say more?
But... he is rough AF in the show.
Always smoking. Always drinking.
Always being the hero.
Now, he's Hellboy.
Look at that body. I have no idea if that is special FX or not, but... dayum. DAYUM.
Have you fallen in love with David Harbour yet? I'm counting down the days to see that sweet, intimidating face of his on season two of Stranger Things.
Check out the entire Gen Why series and other videos on Facebook and the Bustle app across Apple TV, Roku, and Amazon Fire TV.