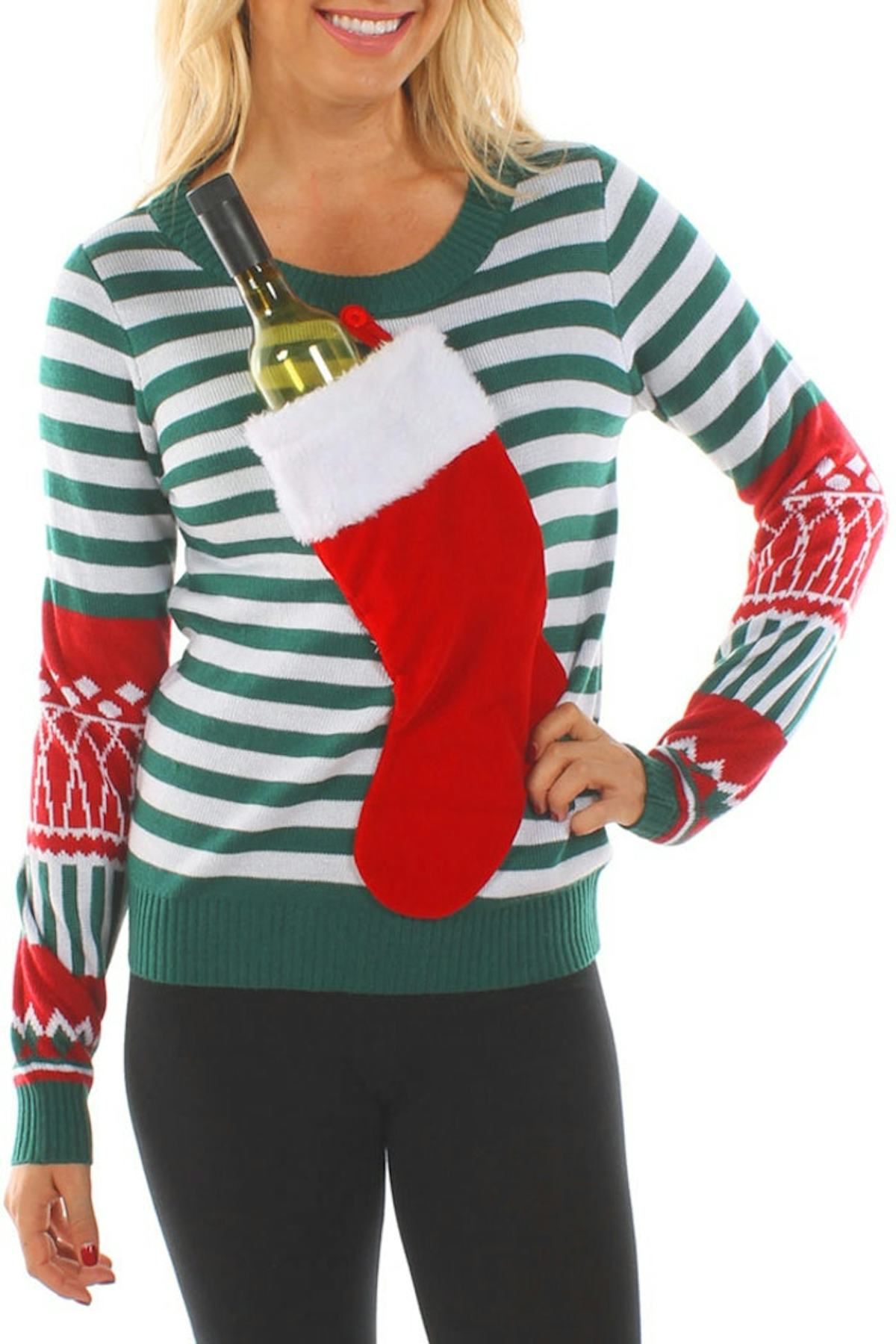 Win Best-Dressed At Holiday Parties With Festive Outfit Ideas For Every Occasion
Tipsy Elves
It's that rough time of year where the original excitement of sweater weather has worn off, but warmer weather is still out of sight. The upside is that the holidays are here, so hang your wreaths and light your menorahs because I'm here with holiday party outfit ideas you won't want to miss.
Every year is a balancing act — how many parties will you get invited to? How many of those can you attend? How many do you want to go to? Should you throw your own party? And the biggest question of all, what do you wear to all of these parties? It can be beyond exhausting. If you have to go from a sophisticated office holiday party straight to your friend's more raucous shindig, can one outfit get you through both? The winter-long threat of inclement weather doesn't help, either.
Lucky for you, I'm here to help with all of your sartorial holiday party needs. Whether you're hosting, attending, or both, I've got all the best dressing tips to keep you off the worst dressed list, but still festive AF because that's what the holidays are all about. Clear your calendar and grab your peppermint latte, we're going shopping.
Obligatory Ugly Sweater Party
Xhilaration Hanukah Velvet Ruffle Dress, $20, Target
Can we talk about how legit stylish the cut of this dress is? Fitted waist, mock turtle neck, and ruffle sleeves, damn. For all my fellow Jews out there, rep the tribe at your local ugly sweater party this year.
Tipsy Elves Ugly Sweater, $57, Tipsy Elves
The ugly sweater competition has gotten intense over the past few years. I own a cat sweater that is always a winner, but I may have just been dethroned. A sweater where you can carry around an entire bottle of wine is #goals.
Santa Hat Headband, $5, Forever 21
Add a headband to take your ugly sweater look over the top, or rock it solo if you're not as into the Christmas spirit, but don't want to get theme-shamed.
Two For One Office Party Special
Velvet Mini Dress With Draped Detail, $50, Zara
Minimal cleavage is probably best for a stuffy (sorry) office party. You may be thinking OK, but what's so special about this dress? Hold my eggnog.
Velvet Flared Trousers, $50, Zara
There are matching pants! A classy pair of party pants is so sophisticated. Your boss will be all, whoa, give that girl a promotion! No promises actually, but you get the idea. This outfit has the vibe of a jumpsuit but requires much less work to go to the bathroom.
If you're party hopping to a non-work soiree after mingling with your coworkers, just take off your pants! Yup, I said it. This top doubles as a dress (pending your height, but it's called a dress, so technically that's what it is), so swap your pants for tights when you leave the office and don't look back.
Rococo Linear Earrings in Blue, $14, Charming Charlie
Add some glam with these pretty earrings. They'll class up your office party look even more, and if your debauchery afterwards gets too crazy, just throw 'em in your purse.
Saragiolo in White Nubuck, $25, Aldo
Your classic black pumps just got a major update with this shimmery bow. But are you ready for the real show-stopper — they're detachable.
Saragiolo in Grey, $14, Aldo
You can attach the bows to the front or back of your shoe, and they come in a light silver and a darker metallic grey. Since they're removable, chuck them off with your earrings if you're going to get down and dirty with your friends.
There you go, one outfit that takes you from office party to house party and beyond, you're welcome.
Non-Denominational Family Soiree
Draped Dress, $60, H&M
No need to get political this holiday season, just go for silver and cover all your bases. This dress has a high neckline in the front, so the open back is all you'll show. It looks expensive, but of course it's not, because I gotchu.
Alison Andrews Women's Cape Blazer, $55, Target
Pair the dress with this cape jacket for an extra layer of warmth, or if you don't want to bare so much skin at the back. The cut of this blazer makes practically anything look instantly fancy, so you'll family will think you're v sophisticated. You can also wear it with other dresses and tops you already own, if you want to take them up a notch.
Diba Brodie Bootie in Grey, $40, DSW
A bootie will add a touch funk to this classy AF outfit, plus keep they'll keep your toes nice and cozy.
Classic Christmas Party
LUSH Satin Faux Wrap Dress in Winetasting, $55, Nordstrom
I've admittedly provided very Festivus-friendly outfits so far, but I get it, many of you want to be a bit more colorful this holiday season. A satin dress will help you out, because it's easier to wear the rest of the year than velour or sequins, but it still has enough sheen to get you in the Christmas spirit.
Tassel Earrings in Racing Green, $25, Mark and Graham
Am I crazy or do these earrings look like Christmas trees? I'm pretty sure I'm not crazy and that they would look extra festive with that red dress.