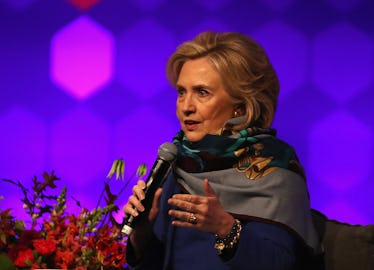 Hillary Clinton Slammed Donald Trump Over Puerto Rico & It's Honestly Spot On
Robert Cianflone/Getty Images News/Getty Images
Even though Hurricane Maria devastated Puerto Rico all the way back in September of 2017, the storm's devastation is still rippling through the island. And as bad as the news already was, it got even worse: On May 29, the New England Journal of Medicine released a study that estimated that the death toll was actually almost 70 times the government's official number. The news was obviously horrifying, and many wondered how such a disaster could have taken place. Now Hillary Clinton's tweet about Puerto Rico takes aim at Donald Trump and his administration for their failings in helping Puerto Rico, and rightfully so.
The May 29 study funded by the Harvard T.H. Chan School of Public Health estimated that over 4,600 people were killed as a result of Hurricane Maria — way more than the 64 cited by the official government report. The study cited interruption of medical care as the "primary cause" of the higher death toll. So the numbers don't just reflect immediate deaths, they reflect everyone who had died as a result of Hurricane Maria, including those who didn't get help on time. People were, of course, outraged — including Clinton, who sent out a tweet slamming Trump on his failure in Puerto Rico.
In a May 31 tweet, the former presidential candidate referenced the New England Journal's study, slamming the the government for failing its people. Clinton also warned that hurricane season is about to come around again, and so the Trump administration better "step up & protect its people." She wrote,
More than 4,600 lives lost in Puerto Rico. 70x the official number. The US gov't has failed its own citizens. The response itself is an American tragedy. Hurricane season is about to begin in Puerto Rico. The administration must step up & protect its people.
During a press briefing on May 30, Press Secretary Sarah Huckabee Sanders responded to a question about the study by saying that the president has been "monitoring the situation" since the beginning and takes it "extremely seriously." Sanders also added that the administration had responded to the crisis with the "largest FEMA operation in history."
She said,
The two Category 4 hurricanes that hit Puerto Rico were historic, and we've responded with the largest FEMA operation in history. And we're going to continue to work with the people of Puerto Rico and do everything we can to be helpful.
Sanders might call the post-Hurricane Maria relief the "largest FEMA operation in history," but following the devastation of Hurricane Maria, it garnered a lot of criticism for being ineffective and poorly planned. Back in December 2017, a report from human rights group Refugees International called out the operation for having "poor coordination and logistics on the ground," as well as not devoting enough urgency and attention to the relief effort according to NPR. "It is troubling that it took five days before any senior federal official from the U.S. mainland visited the island," the organization said. During a September 29 press conference, Puerto Rican officials said that Trump's efforts in Puerto Rico were not sufficient, explaining that about half of the population was still without running water and out of their 69 hospitals, only 36 had power and were open, according to Politico.
One of the most vocal critics of Trump's Puerto Rican relief effort was San Juan Mayor Carmen Yulín Cruz. According to Politico, during that same September press conference she said that the residents of San Juan got four pallets of water — that about 4,000 bottles for about 350,000 people. The food situation was no better, they received just four pallets of food and 12 of baby food and supplies. Cruz also warned that the situation in Puerto Rico could turn into a genocide if not dealt with, according to The Los Angeles Times. She said,
I'm mad as hell because my peoples' lives are at stake . . . . We are dying here. If we don't get the food and the water into people's hands, what we are going to see is something close to a genocide.
In response, Cruz was met by a series of tweets from Trump accusing her of being swayed by the Democrats to be "mean" to him. In one particular tweet, Trump called out Cruz's "poor leadership. He wrote,
...Such poor leadership ability by the Mayor of San Juan, and others in Puerto Rico, who are not able to get their workers to help. They....
Trump even went so far as to say that Cruz calling Trump out on his relief effort was basically just the people being lazy. "They ...want everything to be done for them with it should be a community effort," he wrote.
Puerto Ricans are part of the American people. So if you ask me, the American government should be a part of that "community effort." So, that's on you, President Trump.