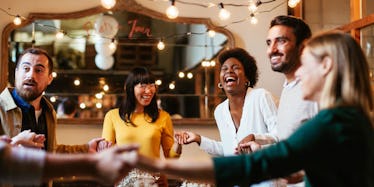 3 Women Reveal Regrets About Inviting Their Significant Other To Thanksgiving
Figuring out holiday plans when you're in a relationship could sometimes be a hassle. You have to determine whose family you're spending time with, how you're going to get there, and how you're going to work out other logistics, like when to leave and even how to help out once there. There are some pretty sound reasons as to why you shouldn't invite your significant other to Thanksgiving, especially since you want holiday time to run as smoothly as possible.
One potential issue in inviting an SO to Thanksgiving is the cost: Transportation to and from far-flung Thanksgiving celebrations can be prohibitively expensive, and that's an instance where you might not even try to invite them.
But sometimes, there are other reasons you may not want to invite your significant other to Thanksgiving. For me, when I was in a long-term relationship during college, I didn't even invite my SO to Thanksgiving. We usually spent time with each other's families during the longer winter break, and independently went to our own families for the shorter Thanksgiving break. That worked out for us, but sometimes, not inviting your SO to Thanksgiving could be due to something else. Read on to see what these three women had to say about their experiences with their partner for Thanksgiving.