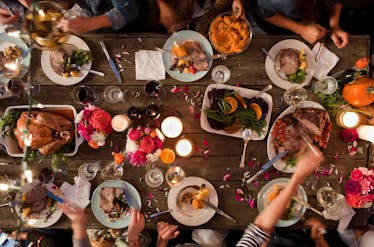 5 Women Reveal The Worst Thing A Family Member Said To Their Partner Over Thanksgiving Dinner
Thanksgiving: The holiday that presents the perfect opportunity to bust out your leggings, stuff your face, reunite with fam, and oh — survive some seriously awkward moments with your significant other. What pairs with pumpkin pie quite like a perfectly timed offensive comment? When I asked women to share the worst thing a family member said to their partner over thanksgiving, the responses were nothing short of cringe-worthy. Your family may mean well, but that doesn't mean they won't put their foot in their mouths. In fact, it's one of the reasons you may be hesitant to bring bae home for the holidays in the first place.
Maybe mom poses some inappropriate or intrusive question about your boo's dating history. Maybe dad makes an offensive comment about religion — which, unbeknownst to him, happens to be the one your SO practices. Maybe your brother shares an uncomfortable story about your ex, or your uncle makes a rude remark about your partner's career. Regardless, the point is that when you bring your significant other home for Thanksgiving, you have to prepare yourself for any potentially awk scenarios. And even if you do prepare yourself, there's no telling what cringe-worthy question or statement your loved ones might make over the turkey dinner.
Need some proof of these possible pitfalls? Here are some super awkward Thanksgiving stories from five women who bravely brought their partners home for Thanksgiving. One word: woof.