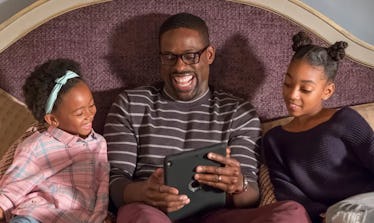 Tess From 'This Is Us' Shares Details About Her Emotional Season 2 Storyline – EXCLUSIVE
NBC
If there's one TV show that is showcasing the work of talented young actors, it's got be This Is Us. Sure — we're all chomping at the bit to find out the fate of the adult Big Three (and that whole how Jack dies thing...), but we also deeply care about the child characters who help make this series family what it is. Eris Baker plays Tess Pearson on This Is Us, Beth and Randall's oldest daughter. Audiences have watched her grow up since last year, dealing with heavy emotional burdens and a heart-stopping car scene that capped off a tense and somber first half of the second season.
Elite Daily got the chance to speak with Eris about what we can expect as the season progresses, how she relates to Tess, and the advice she's received from her insanely skilled ensemble of co-stars. She even filled us in on who she thinks is the funniest cast member. Spoiler: The answer might surprise you.
If you've been watching the events of Season 2 unfold, you understand that practically every member of the Pearson is facing their own personal demons at the moment. Last week's riveting therapy session between Randall, Kevin, Kate, and their mother Rebecca put everything out on the table, including Kevin's observation that Tess was dealing with more than she's letting on.
When I asked Eris about how she relates to Tess, she touched on what her character is currently experiencing,
Knowing everything that Tess has gone through, I feel like Tess right now is fighting through all the pain but she doesn't want everyone to see that. She wants to be in her own situation. Instead of talking to her mom or her dad, she wanted to go in the car and put herself in a really difficult situation where she could have died.
And while This Is Us has proven to take things up a notch in the sadness department this year, moving moments in even the most dramatic episodes — like last episode's park bench scene between the grown-up Big Three — make it all worth while.
Beth and Randall Pearson appear to keep it together no matter what they face, and Eris pointed out which on-screen parent her character is probably closer to in personality. She insightfully perceived,
I think that Tess and Beth actually have more in common than Randall, because Beth is really strong. And Tess probably gets her courage and her strength from Beth, but gets her sentimental side from Randall because of all he's gone through with his parents and stuff.
Speaking of sentimental, we all know that This Is Us has gotten a serious rep for making viewers reach for their tissues week after week. What got Eris the most choked up?
Probably when her grandpa came in Tess and Annie's life and then he died. That was really personal to watch because my grandpa died when I was really young and I never got to know him. But the grandpa going into their lives, and really having a personal relationship with them, and then passing away, I felt really empathetic.
As this show continues to prove, almost anyone — no matter their age — can relate to a storyline or a feeling that comes up.
But enough about the upsetting stuff! When I inquired about which of Eris' co-stars crack her up the most on set, she revealed that it's not in fact one of the adult actors:
Probably Lonnie Chaviz [8, 9, and 10-year-old Randall]. He's hilarious. And he's an amazing dancer. He's hilarious and he's awesome on the show. He's a really good guy, he's a good dancer, and he's an overall good friend. He's really funny.
But it's the older cast members who have given her advice:
All the adults on the show, they really showed me it takes hard work and dedication to be what you want to be. Sterling K Brown — he didn't just get the Golden Globe, he didn't just get the Emmy award. He really had to work hard. I really learned that I'm going to have to go through lots of challenges and lots of probably mistakes, but as long as I keep my head forward, as long as I get there, it doesn't matter how slow. As long as I get to my dream.
And while Eris already works with some of the best performers in the business, she's continuing to reach for the stars. "My dream role is to be in a movie with Kerry Washington," she reveals. Good answer.
I look forward to seeing Eris shine on TV and beyond.
This Is Us airs at 9 p.m. ET Tuesday on NBC.