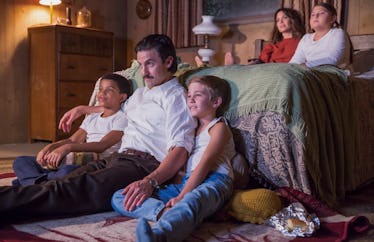 Find Out Which 'This Is Us' Character You Are, Based On Your Zodiac Sign
Part of what makes This Is Us so relatable is its portrayal of family relationships. Jack Pearson totally reminds me of my own dad at least once a week, while Rebecca and Kate clashing in both the '90s and present day is reminiscent of every mother-daughter relationship. On a deeper level, each character's personal struggles, such as Randall's anxiety or Kate's self-esteem, have spoken to fans, reminding us that no one's life is ever a s perfect as it seems from an outsider's perspective. Given how relatable each character becomes as the show progresses, which This Is Us character are you based on your Zodiac sign?
The hit NBC series explores both biological and adoptive family situations, showing how talents, addictions, or personalities can carry over to new generations. That being said, the pilot episode emphasized that the Big Three shared a birthday with Jack, which would give them all the same Zodiac sign and similar personalities. With this little detail put to the side for now, these four characters and the rest of the gang clearly fit individual star signs so well that it's easy to match each one to different signs and their personality traits.
So, if you're convinced that your parents are a modern-day Jack and Rebecca or that William is your spirit animal, read on to figure out which This Is Us character you're most like: