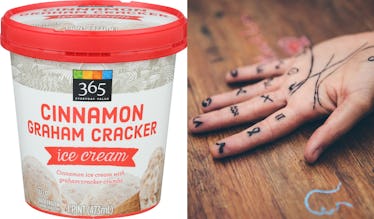 This Is The Best Ice Cream For Your Zodiac Sign, According To Whole Foods
Aside from deciding if you want to spend your Thursday night out at the bars or in bed watching Netflix, one of life's most difficult decisions is choosing which ice cream flavor you should get. And that's why I'm thrilled that Whole Foods Market has decided for me until the end of time. So, if you also have a hard time choosing your scoops, here's which ice cream you should eat based on your zodiac sign. Trust me — it's about to make your life way easier.
From July 17 until July 30, Whole Foods is coming in clutch in the frozen department. The grocery chain is offering 35% off all ice cream for the entire two weeks, according to a press release, as long as you're an Amazon Prime member. This encompasses the entire 365 Everyday Value ice cream lineup, which includes gems like Toasted Coconut & Black Sesame and — of course — Cookie Dough. Yum.
Like I said, choosing an ice cream flavor can be seriously tricky, so Whole Foods has laid out your decision for you, by designating a go-to ice cream flavor for each zodiac sign. It's about to make trips to the ice cream shop (and the Whole Foods freezer isle) a helluva lot quicker, so check out your destined flavor, below.