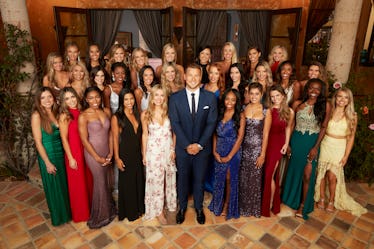 Here's Which 'Bachelor' Contestant You Are Based On Your Zodiac Sign
ABC/Craig Sjodin
Your Bachelor viewing parties may not be the type of hangouts that Chris Harrison crashes with ABC cameras, but with every Bachelor group watch comes the process of identifying with a contestant whose witty one-liners and facial expressions match exactly how you or a friend feels. The Bachelorette has its hunky eye candy, but The Bachelor's mostly female audience has plenty to relate to while watching these women cope with living together and vying for the same guy. It's like a heightened version of college dorm life, but this hallway party always has someone you relate to more than usual. In case you're interested, here's which Bachelor contestant you are based on your Zodiac signs.
If you already feel like Bachelor mainstay Ashley I., you're probably up to speed with the personality traits of certain Zodiac signs and what the stars predict about signs' romantic compatibility. Even if you turn your nose up at how seriously some people follow their horoscopes, there are some details about each sign that are way too accurate to ignore, and prime examples of this play out in each new cycle of The Bachelor. I'd definitely read a study on which Zodiac signs have performed the best on the show, but for now, I'll consult astrology to learn which ladies from the show are more similar to me than I may think.
Mostly based on contestants' actual Zodiac signs, our lineup below features some of the past few years' most memorable women in Bachelor Nation. Are you going to follow their Instagram accounts and comment "same" on your Zodiac twin's pics?