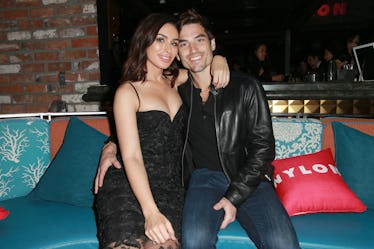 Ashley Iaconetti & Jared Haibon Are Compatible AF, According To An Astrologer
Rich Fury/Getty Images Entertainment/Getty Images
When news hit that Bachelor "royalty" Ashley Iaconetti and Jared Haibon are now an official couple after years of will-they-won't-they tension, I know what you're probably thinking: finally. While the pair wasn't ever an official item until now, their close, flirty friendship has kept viewers wondering when the two would get together. Ashley Iaconetti and Jared Haibon's astrological compatibility may be able to tell us all how the two operates as a couple, and maybe why it took them so long – three years – to finally get together.
I turned to astrologer Phyllis Firak-Mitz to see what Iaconetti and Haibon's sun signs can tell us about their relationship. Iaconetti, born on March 6, is a Pisces, and Jared Haibon, born on November 15, is a Scorpio. So how do a Pisces and Scorpio work together? Firak-Mitz offers insight in her book, Astrology's Secrets to Hot Romance: How to Find True Compatibility and the One Who's Right for You.
Well, Firak-Mitz approves of the two signs together – she calls them a "five-star relationship."
"They make a truly, wonderful, touching relationship that's full of intimacies, magic, and spark," Firak-Mitz says in her book. "Pisces and Scorpios easily bond through their emotional sensitivity, creativity, and concern for others. Each [possess] qualities the other seeks and admires: both love to deeply connect and possess intuitive awareness of emotions."
This certainly makes sense – Iaconetti has built a brand based on her ability to connect with viewers, touting how she's a "real girl" that tells it like it is. And both were on a reality television show that forced them to talk about their feelings pretty much constantly.
Firak-Mitz also said that a Scorpio and Pisces couple like to explore things together, "They captivate each other's interest by exploring the hidden dynamics and possibilities of life." Iaconetti and Haibon do travel together quite often, including their group trips to St. Lucia and appearances on Bachelor in Paradise in Sayulita, Mexico.
"Scorpios are beguiled by Pisces' imaginative, romantic ways," said Firak-Mitz – which can be seen in the way Haibon just looks at Iaconetti. "They relax in Pisces' softness and revel in their compassionate tenderness." Iaconetti talked about how she's able to let her guard down around Haibon, and simply feels comfortable in his presence in her Cosmopolitan.com column.
"Jared was the first guy I'd been (so) attracted to with whom I could also talk to for hours and express all my feelings to comfortably," Iaconetti said. "He's a safe place for me and a source of comfort."
"Scorpios enjoy that Pisces yield to their leadership yet retain a mysteriousness that keeps them intrigued. Pisces stir Scorpios and spark their creativity.
The fact that Pisces are attracted to Scorpio's charisma, according to Firak-Mitz, is so evident in any interview between Haibon and Iaconetti. Iaconetti focuses all her attention to Haibon, and is clearly incredibly drawn to him. "Pisces are downright spellbound by Scorpio's power and drawn to their charisma," said Firak-Mitz.
A Scorpio and Pisces in a relationship will yield two people inspired to do more with their lives. And it's clear both Haibon and Iaconetti are ambitious, making the most of their post-Bachelor fame.
"Romance between Pisces and Scorpios is rich in the seductions, intimacies, and affections each craves," said Firak-Mitz. "Inhibitions evaporate as each lives for the enthralling lovemaking the other provides."
I'm not sure about the lovemaking part – and definitely can't speak to the couple's private, intimate love lives – but watching Haibon and Iaconetti interact just shows how much passion and chemistry radiates between the two, and I wish them the best of luck in navigating their new, aligned-by-the-stars, relationship.