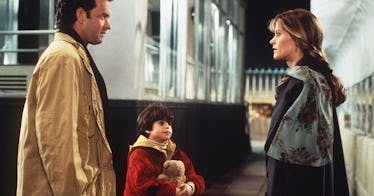 Here's Where To See 'Sleepless In Seattle' In Theaters For Its 25th Anniversary
TriStar Pictures
Calling all romantic cinephiles! If your idea of love is meeting a stranger on the top of a New York City landmark, you were obviously raised on a healthy diet of Nora Ephron movies. Although When Harry Met Sally and its New Year's Eve ending perfectly suit the holiday season, look no further than Ephron's 1993 directorial hit Sleepless in Seattle for some festive love this year. The iconic rom-com is returning to the big screen soon, and here's where to see Sleepless in Seattle in theaters for its 25th anniversary.
Although rom-com queen Ephron wrote several films and directed one before pulling double duty on Sleepless in Seattle, the Tom Hanks-Meg Ryan mashup has always wooed fans with its ode to old-fashioned romance. In the film, Ryan's reporter character Annie learns about Hanks' Seattle widower Sam after his son calls a national radio show for advice on soothing Sam's grief. Although Annie is engaged to another man, she eventually promises to meet Sam at the top of the Empire State Building on Valentine's Day à la the Hollywood classic An Affair to Remember. The movie doesn't feature as many chunky sweaters or books as the actors' second Ephron partnership in You've Got Mail, but who doesn't want to kick off the Christmas season with a whimsical love story?
On Dec. 2 and 5, nearly 400 cinemas will hold screenings of the film at 4 p.m. and 7 p.m. On Fathom Events' web page for the event, you can type in your local zip code to find out which theaters near you are participating. Hosted by Fathom Events and Sony Pictures Entertainment, the screenings will also open with a new introduction by Ryan and Sleepless in Seattle producer Gary Foster. After the film's cinematic return was announced, Tom Lucas, Fathom Events VP of Studio Relations, said in a statement:
We couldn't let 2018 come to an end without honoring one of the truly great romantic comedies as it celebrates its 25th anniversary – and we're doubly excited to have the help of Meg Ryan and Gary Foster, whose talents were so critical to making this film a success.
Since its release 25 years ago, the film's climatic moment on top of the Empire State Building has been fodder for parodies and real-life inspiration. While attempting your own Valentine's Day meetup at the skyscraper IRL can prove logistically impossible, The Mindy Project's homage to Annie and Sam's first meeting remains one of the clearest tributes to the characters' meet cute. Mindy Lahiri is definitely somewhere in New York right now trying to book her screening tickets and convince Danny to come with her.
While Hanks and Ryan never reprised any of their rom-com characters in sequels, the two reunited in 2016 in Ithaca, Ryan's major directorial debut. Set in California during World War II, the film was far from a swooning love story, but Hanks' cameo was particularly special for Ryan. She told Entertainment Weekly at the time:
It took him a day to [shoot his scene]. At the end of his time, he says to the crew, 'All right, gather 'round. Listen, I know we've gotten to know each other very well over the last 10 hours together, but I just want to thank you for being here for my friend Meg.' It was such an act of friendship. I love him so much.
It may be a hefty Christmas wish, but fingers crossed that Hanks and Ryan surprise fans together at a Sleepless in Seattle screening next month. If not, then here's to a cozy night at the cinema with two of rom-com lovers' favorite faces.