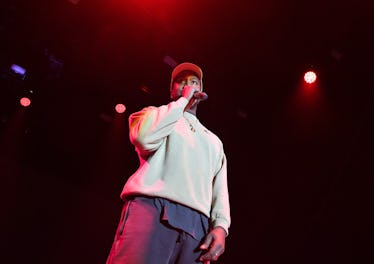 Kanye West Released A New Song Called "Lift Yourself" & Here's Where You Can Listen
Neilson Barnard/Getty Images Entertainment/Getty Images
Kanye West released a super catchy song on Friday, April 27. If you haven't jammed out to it a thousand times already, here's where to listen to Kanye West's new song, "Lift Yourself." With a hilarious and quite memorable ending, you definitely won't regret giving it a listen.
Whether you spent your Friday night hitting up the bars, watching Friends re-runs with a glass of wine, or cuddling with your dog, there's a likely chance you heard Kanye's latest jam. Per Billboard, the cheery tune became available on Friday evening. In typical Kanye fashion, the "Graduation" rapper alerted fans by tweeting out a URL to his official website, which automatically plays the song when the page opens. Get ready to bob your head a little, dance, laugh, and also be slightly confused (just towards the end, though).
I know for a fact that "Lift Yourself" is going to play in all of my favorite local bars this weekend — it's a super fun tune, and despite what you may think, it's most definitely worthy of my lame-ass dance moves. Like many songs on his last album, The Life of Pablo, the beginning of "Lift Yourself" almost sounds like gospel. A female vocalist soulfully chimes in with the verse, "Hard to see the hang-ups we have today, we need to strive for more liberty." This is followed by a hook, which repeats, "Lift yourself up on your feet, let's get it on," which gives somewhat of a house music or EDM vibe. It's really different from anything Kanye has released in a while, and regardless if you like it or not, it's incredibly creative, and unlike anything I've heard in quite a while.
The end of the song is a little different from the rest. It's kind of unclear as to whether it was supposed to be a joke or not, but it's basically just Yeezy scatting the words "scoop" and "poop." I'm not sure what to think, but either way, in the eloquent words of Kanye, "Whoop-ditty-scoop, poop."
Yeezy got his fans hyped for the single when he tweeted a series of fire emojis to describe the new song's "fire" verse. He explained he was going to "drop a song with a verse that will bring Ebro the closure he's been seeking," which according to Billboard, is a clap-back to comments from Ebro Darden, the radio DJ at Hot 97. The DJ had apparently criticized the rapper for Kanye's pro-Trump tweets from earlier on Wednesday.
Kanye has recently received a substantial amount of backlash after revealing on Twitter that he apparently supports Donald Trump. This inspired a text from fellow R&B artist, John Legend, which apparently advised the the rapper to reconsider "aligning himself" with Trump, as his voice is pretty powerful. The rapper proceeded to tweet these text messages, saying, "bringing up my fans or my legacy is a tactic based on fear used to manipulate my free thought." All of it was really awkward, as the two are apparently good friends. Nobody is entirely sure what to think about any of it, and TBH, it kind of reminded me a lot of middle school drama... except for the part about Donald Trump, though.
Make sure to listen to Kanye's new song, which can be found directly on his website. I know it'll be the soundtrack to all of my pre-games this weekend, because it's honestly the ideal dance song. Also, if you have any sense of humor at all whatsoever, the ending will definitely make you laugh. Happy weekend, and I really hope it's filled with "poopy-di scoop."