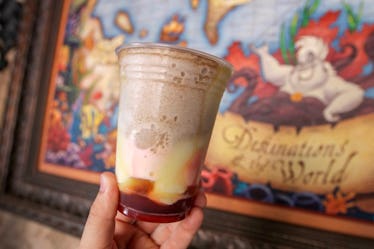 Disney's New Witch's Brew Is A Spooky-Good Combo Of All Your Favorite Flavors
Disney is not playing around when it comes to its spooky array of Halloween theme park treats. Disney World's Mickey's Not-So-Scary Halloween Party got the spooky festivities started early on Aug. 17, and the Magic Kingdom's newest spooky snacks are all treat, no trick, especially the aptly-named Witch's Brew. Here's where to get Disney's Witch's Brew, because you're definitely not going to want to sleep on this crazy flavor combination.
You can now head over to Prince Eric's Village Market located in Fantasyland to partake in the Magic Kingdom's newest sips, which boasts a decidedly witchy combination of ingredients, per Delish. TBH, it's probably the park's most unusual offering to date, and I have no idea what it would even taste like. According to the park's online menu, the "Witch's Brew" starts with a base of Minute Maid Frozen Lemonade and Frozen Coca-Cola, which is then mixed with Monin cherry, Granny Smith apple, watermelon, and red passion fruit syrup. So, is this the tart and sweet slush you never knew you needed? Is this combination just spooky (in a bad way)? Unsurprisingly, Instagram is pretty divided.
The frozen drink itself looks pretty cool. In an Instagram photo of the sip posted by @wdwnt, you can see the color layers clearly delineated with a layer of foam from the Coke at the top.
Considering that it's available at Prince Eric's Village Market, this Halloween drink is probably themed to sea witch Ursula in Little Mermaid, although I don't really get as much of a Little Mermaid vibe as compared to other treats on offer like the Mermaid Donut and even the new Sweet Thai Chili Shrimp. If anything, I could see the Witch's Brew being a concoction dreamed up by the evil witch in Snow White, what with the apple influences and red coloring.
According to Disney Food Blog, "The flavors are layered (before they start to blend by melting, that is) moving from tart to fruity to super sweet… all in one drink!" For almost $7 ($6.49, to be exact), your frozen slush is loaded with pretty much every sweet syrup imaginable to create a drink that looks like a cauldron that's boiling over. From the sounds of things, it's basically a sugar high in a cup, which could be a very good or a very bad thing.
Instagram blogger Disney's Food Reviews gave the unusual concoction an 8 out of 10. "Before trying this drink I thought it had WAY too many flavors and wouldn't taste good," the blogger said. "I was pleasantly surprised. I enjoyed the witches brew. It was sweet and tart. The flavors worked well together!" Comments range from curious people saying they had to give it a try, to others being put off by the "complicated" flavor combination. One thing's for certain, though: The mixture is certainly intriguing, and you might want to give it a try and channel your inner Disney villain the next time you're at the Magic Kingdom.
According to WDW News Today, the treat is inspired by Ursula and not necessarily Halloween, so it might be sticking around after the spookiest day of the year and the rest of the park's delectable Halloween selection have gone. Just make sure you're prepared for that inevitable sugar rush (and crash), and you'll be good to channel all the sea witch vibes.