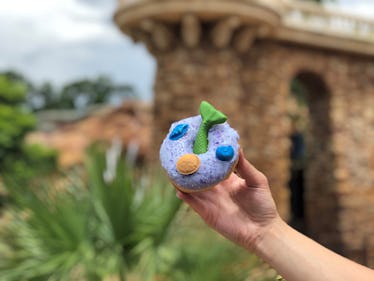 Disney World's New Mermaid Doughnut Is The Millennial Lilac Treat Of Your Dreams
Walt Disney World
I'll admit that I thought that the Disney theme park fare selection had peaked in June with the launch of Mermaid Cupcakes, aka iridescent birthday cake batter cupcakes inlaid with tiny chocolate pearls and rainbow sprinkles. That is, until I got a good look at the sea foam green confection's millennial lilac cousin, which will be making waves at the Magical Kingdom in the hue of the moment. Trust me, you'll want Disney World's new Mermaid Donut to be a part of your world and your Instagram feed when it hits the park in just a few weeks.
Something tells me that Ariel would very much approve of Disney's doughy, fried answer to their popular Mermaid Cupcake, which debuted at the park on Tuesday, June 5. A rep confirmed to Elite Daily that the park's underwater-themed doughnut will be launched at Prince Eric's Village Market vendors at the Orlando, Florida theme park starting on August 19. As a refresher, Prince Eric's Village Market is located right across from the Little Mermaid ride in Fantasyland, and it's the perfect stop for a morning pick-me-up, especially one that makes you feel like a sea goddess.
While the Mermaid Donut isn't technically released to the public just yet, several bloggers have been testing it out, and it's safe to say that it's already making a splash on Instagram. From the looks of it, it's almost too stunning too eat — without taking a 'gram of it beforehand, at least. Per Instagram blogger The Kingdom Insider, the treat starts with a classic yeast doughnut base, which is then layered with a layer of pale periwinkle icing and purple sprinkles. Blue and yellow shells made out of white chocolate decorate the doughnut, which is topped off with a green mermaid tail sticking out from the center. There's no word yet on what it tastes like or if it will have a limited-edition release like the Mermaid Cupcake, but I'm guessing that it'll be like your favorite frosted doughnut, just prettier.
Considering that Prince Eric's Castle is just around the corner, a few bloggers have already realized that the magical background makes a pretty spectacular setting for one unforgettable Mermaid Donut shot. What better way to commemorate Ariel and Prince Eric's love story than with the best of both worlds? However, if you're looking to think outside the box and beat the lines while staying on-trend, I'd recommend venturing over to the Tomorrowland Terrace and getting a 'gram in front of the park's now-iconic Purple Wall. Considering that both the wall and the mermaid doughnut come in the color of the moment, aka millennial lilac, prepare for all the "likes" to come pouring in.
While the mer-doughnut is making its appearance towards the tail-end of August, Disney World is keeping the summer-inspired goodies coming with some refreshing sips to pair with the new treat. According to Instagram blogger Disney Wife Happy Life, you can pick up Disney's Flavored Frozen Cokes or Lemonades at the same stand at Prince Eric's Village Market, so get ready to live your best life as the seasons start turning.
With just a few days left to go until the magical doughnut makes its debut, you should start readying your taste buds and your 'gram game for the next-level goodies now. As the popularity of Disney's Mermaid Cupcakes has shown, there's really never been a better time to channel your inner Ariel.