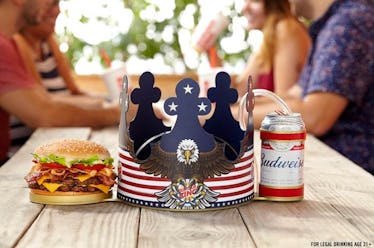 Here's Where To Get Burger King's Freedom Crown, The Patriotic Promotion Of The Summer
Burger King
Start your Fourth of July holiday off on the right foot and go get yourself a "Freedom Crown" from Burger King. The red, white, and blue crown is a patriotic twist on the beloved and bejeweled original Burger King hat. The America-themed hat will be the perfect addition to your backyard summer party, because not only does it have the stars and stripes necessary for any celebratory summer bash, it'll even hold a burger and a can of beer for you. Here is where to get Burger King's Freedom Crown, so you can celebrate all summer long.
Burger King unveiled the limited edition "Freedom Crown" on Wednesday, June 27 to patrons across America. The nationalistic headdress from the burger chain is sure to be a must-have piece of attire for your summer parties. So, where can you get one of your own? The "Freedom Crown" is only available at select Burger King stores across the country. In order to find out if your local Burger King you has the "Freedom Crown" in stock, start by finding the nearest location to your home. Burger King is the fifth largest fast food brand in the United States, according to AdAge, so the chances are high that you'll be able to find a location close to home.
Have you found your neighboring Burger King restaurant yet? OK, great. I recommend giving the fast food chain a call before you make your way to the store. This way, you can verify whether or not the "Freedom Crown" is in stock before you pack up and go. If your nearby Burger King is one of the stores participating in this patriotic promotion, you should probably lace up your sneakers and get there now. I'm thinking these crowns, which are adorned with stars, stripes, and a bald eagle, are going to go quickly.
In addition to rolling out the limited-edition "Freedom Crown," Burger King is also cooking up a brand new burger called the American Brewhouse King Sandwich. This bad boy is composed of "two savory flame-grilled beef patties totaling more than a quarter-pound of beef, topped with three half-strips of thick-cut smoked bacon, crispy onions, tavern sauce, American cheese and creamy mayonnaise all on a sesame seed bun," according to Burger King. You can also get this delicious monstrosity for $6.19 at participating BK locations.
Best of all? The American Brewhouse King Sandwich was made for the "Freedom Crown," or vice versa. However you look at it, there is no denying that the convenience of wearing a hat that holds your food is a win-win for everyone. That's not all the "Freedom Crown" holds, though. Burger King partnered up with Budweiser on this one, so in addition to the American Brewhouse King Sandwich, you can place a 12-ounce aluminum can of Bud atop your head, too. Just a quick piece of advice from me to you: This made in America deal is meant to be enjoyed by ages 21 and up, so be sure to drink your brewski responsibly. No funny business, OK?
To further celebrate the launch of the "Freedom Crown," Budweiser remade their famous "Whassup" commercial that was released in 1999. This remake is the perfect way to throw it back, while ushering in a brand new burger and crown to celebrate summer.
The summertime promotion is also meant as an opportunity for Burger King and Budweiser to show their continued support for the troops, as well as past and present veterans who have worked for either company.
Burger King's "Freedom Crown" and America Brewhouse King Sandwich are only available for a limited time this summer, so make sure you find a participating store before it is too late. If you can't find it near you, don't fret. This situation could present itself as the perfect opportunity for that summer road trip you've been pining to go on. A delicious adventure awaits.