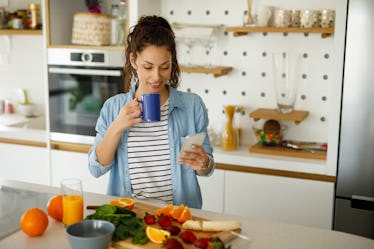 You Can Hype Your Fave Small Businesses With Instagram Story's New Sticker
EmirMemedovski/E+/Getty Images
With much of the country in lockdown in an attempt to help slow the spread of the novel coronavirus, many small businesses are struggling to stay afloat. Instagram's latest update is all about helping business owners stay connected with customers during these times — and it's so easy to use. Here's where to find Instagram's Support Small Business sticker if you want to shout out your favorites on your Story and lend them your support from afar.
With smaller local establishments especially hard hit by the financial ramifications of the coronavirus pandemic, Instagram is giving you a way to help out, by making it so easy to supplement your delivery and pick-ups from your fave spots with a special share button on IG Story, which it rolled out on May 11. To find it, you'll want to go to your Instagram Story Camera. From There, take a photo or video to get to your sticker pack, which is the square with a smiley face in the top right corner of your phone's screen, where you normally find stickers for sharing Locations, Mentions, GIFs, Donations, and more.
Once you tap the sticker button, you'll now see a new icon with a small shopping bag with a heart on it and the words "Support Small Business." Tap on it, and you'll have the option to add a handle mention for the business of your choice. It's basically like tagging your fave spots to shout them out, but now you can use a specific sticker for it.
After you add the name of the business you want to shout out, the tag will populate with three recent images from the establishment's Feed, as well as the handle. You can tap it again to change the format to a handle-only mention. Once you share the Story, the business you tagged can choose to re-share it like normal. Additionally, your tagged photo or video will be added to a shared Support Small Business story that anyone can watch.
Instagram's small business sticker comes just weeks after the social media platform unveiled two others stickers — "Stay Home" and "Thank You" buttons — amidst the COVID-19 pandemic. These two options allow users to share their quarantine activities with others and shout out essential workers at the frontlines, and Instagram's latest update is a welcome addition to the lineup.
Facebook app users can also get in on the action with a new #SupportSmallBusiness hashtag, which allows people to essentially do the same thing and shout out their favorite local establishments.
Paired with new Facebook features like "in support of" posts, a Businesses Nearby section, and a Business Inbox in the Messenger app, Instagram's new sticker is an easy way to virtually advertise your favorite small stores to your followers and show them some love on social media.
If you think you're showing symptoms of coronavirus, which include fever, shortness of breath, and cough, call your doctor before going to get tested. If you're anxious about the virus's spread in your community, visit the CDC for up-to-date information and resources, or seek out mental health support. You can find all Elite Daily's coverage of coronavirus here.