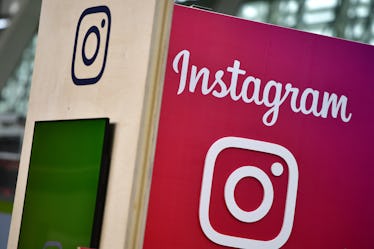 Here's Where To Find IGTV On Instagram If You're Searching For The New Feature
Alexander Koerner/Getty Images News/Getty Images
If you're a part of Instagram Nation (yes, I just made that up), then you've definitely heard about IGTV. Instagram announced the new video platform on Wednesday, June 20, and it has already become available on phones across the globe. If you haven't heard of the new feature yet, I'll catch you up a little bit. For starters, IGTV comes as an external app from the App Store, but it's also available through your main Instagram app. If you're having trouble locating it, you're probably wondering where to find IGTV on Instagram. You might be overlooking the new TV icon, or you may not have gotten access to the feature yet. Either way, I'll show you where it's found.
Assuming you've already downloaded the external IGTV app, you can find the IGTV Instagram feature in two places. The first place is the most obvious: your home screen. When you sign into Instagram and land on your home page, you should see a teeny, tiny icon in the upper righthand corner of your page that looks like a vintage television set. That's the IGTV icon! If you're looking in the right spot, you should see it to the left of your DM icon, and to the right of the main Instagram logo. Once you hit the IGTV icon, it'll bring you directly to IGTV, and videos will automatically start playing.
Let's recap: To find the IGTV feature on Instagram, go to your home page and look for the icon in the upper righthand corner. Got it? Good. That isn't the only place you can find the IGTV feature on the main IG app, though. You can also find it when you visit specific creators' profiles if they've uploaded content to IGTV. Once you visit someone's page that has uploaded videos, you'll see an IGTV circle to the left of their Story Highlights. If you click on that circle, it'll bring you straight to their IGTV channel.
For example, if you visit Elite Daily's Instagram page on your mobile phone, you'll see an IGTV circle to the left of the company's Story Highlights. Once you click on it, the app will bring you to Elite Daily's IGTV channel. It's that simple.
Whether you're looking on your home screen or scanning your favorite creators' profiles, you're sure to find the IGTV feature on your main Instagram app. However, if you aren't seeing the feature for some reason, there might be a few things that you're doing wrong. (Trust me, I couldn't find the icon when it was released, and I had to do some troubleshooting.)
Let's start from the top. Before you start panicking and feeling the IGTV FOMO, do yourself a favor and make sure your main Instagram app is updated. In order to have access to the new feature, your IG app must be running on version 50 from the App Store, so check and see if that's what you're using. If you're up to date and still aren't seeing the IGTV icon, you should sign out of the app and force-quit. If you re-open the app and still can't find the new feature, don't panic — there's still hope. This might be a last-resort option, but try deleting your Instagram app entirely, and re-downloading it onto your phone. These suggestions come from an Instagram spokesperson, so I'd definitely suggest giving them a shot.
Once you go through these processes and (hopefully) have access to IGTV, the possibilities are nearly endless. After creating your own channel, you can begin uploading videos that can be up to an hour long. So, what are you waiting for? Now that you know where to find the feature on your main Instagram app, get to it.