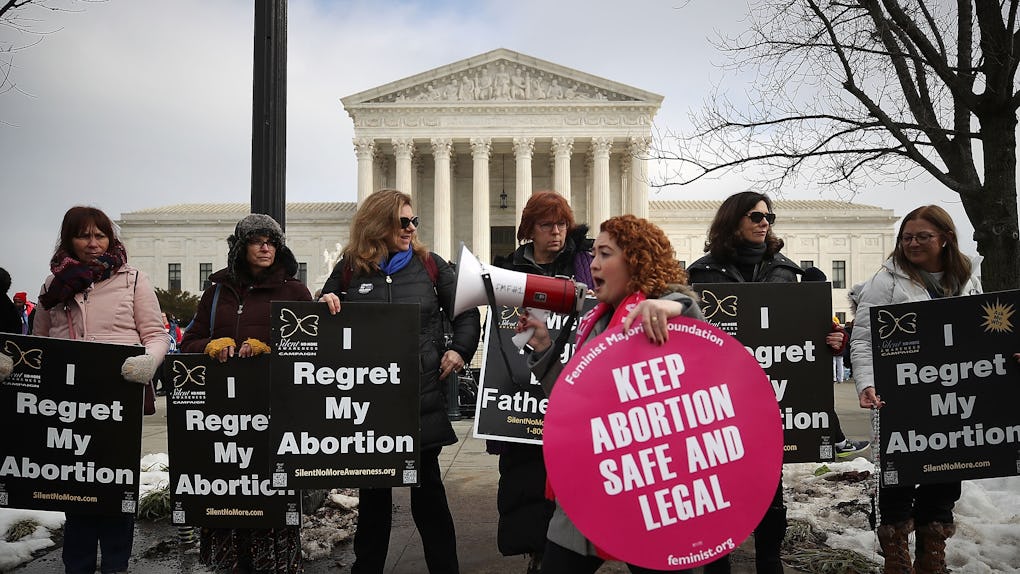 Mark Wilson/Getty Images News/Getty Images
Here's Where To Donate To Support Reproductive Rights In Alabama After The State's Abortion Ban Bill Vote
It's been a grim few weeks for abortion rights. After widespread debate and controversy, the Alabama state Senate voted on May 14 to pass one of the most restrictive abortion laws in the United States. The bill appears to be designed to conflict with the Supreme Court's landmark 1973 decision Roe v. Wade, which establishes the right to an abortion, in hopes that legal challenges will make it to the highest court and conservative justices will overturn the ruling. But it's not happening without a fight. Here's where to donate to support reproductive rights in Alabama, because anything helps.
Donating will go a long way, given how serious the bill is. Known as the Human Life Protection Act, the bill is a near-total ban on abortions, with no exceptions in cases of rape or incest. The only exception is if there's a risk to the mother's health. It also makes abortion a criminal offense. While women would not be criminally liable, doctors who perform or attempt to perform an abortion procedure could face anywhere between 10 years and 99 years behind bars. The bill is currently awaiting a signature from Republican Gov. Kay Ivey, who has not publicly committed to signing it, but lawmakers are expecting her support. A spokesperson for the governor, who has expressed anti-abortion views, said in a statement to The New York Times that she would "withhold comment until she has had a chance to thoroughly review the final version of the bill that passed."
Already, many pro-choice groups even vowing to fight the bill. But legal challenges aren't exactly cheap, so they'll need people to lend some help. Here's how.