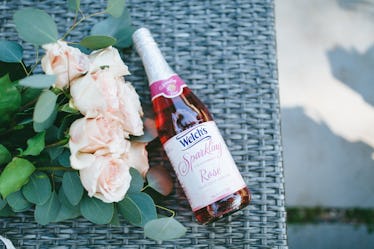 This Rosé Is Non-Alcoholic, So You Can Rosé All Day Without The Hangover
Welch's
Looking for a way to enjoy rosé without the hangover the following day? Welch's has you covered with their latest sparkling drink sensation: non-alcoholic Sparkling Rosé. Whether you're celebrating at the office or perhaps a family-friendly afternoon barbecue, you can sip the bubbly, booze-less beverage without a worry all summer long. Sign me up. If you are wondering where to buy a bottle or two to bring to your next shindig, I have you covered. Here's where to buy Welch's non-alcoholic rosé so you can "rosé all day" (without the hangover).
The 24.5-ounce bottles of bubbly are available at most major retailers throughout the United States, such as Target, Amazon, Kroger, Walmart, and more. You can even add a bottle or two to your next InstaCart purchase, so you don't even have to leave the house to get your hands on the "pink drink." OK, now I'm really sold. No matter where you are or what time of day it is, a full-bodied, fruit-flavored glass of Welch's Sparkling Rosé is always a good idea. And, by the way, you can sip and enjoy it without worrying about how you will feel the next morning.
While this rosé is made without alcohol, it certainly does not lack the sweet and refreshing high-quality flavor that you are likely accustomed to drinking. It is that good. Do I have your attention yet? Welch's blush-colored beverage costs less than $4 a pop, and is even on sale at your local Target for $2.50 a bottle right now. Of course, I can't guarantee that price, since the cost will likely vary from store to store. But it's worth looking into, right? Even better, Welch's Sparkling Rosé contains no added sugar or high fructose corn syrup, so you can feel good about what you are sipping on without having to worry about tomorrow's headache.
"The Welch's Sparkling franchise is busting out of the holidays," Matt Smokler, Associate Brand Manager with Welch's, said in a press release. "We're expanding our great sparkling juice tradition into summer with the introduction of Sparkling Rosé, so consumers looking for non-alcoholic offerings can celebrate all year long. With a crisp, balanced formulation that combines the sweetness and tartness of ripe summer fruit, and does not include any high fructose corn syrup or added sugars, Welch's Sparkling Rosé is both a refreshing and health-conscious choice for a wide variety of summertime occasions."
The pink bubbly is of course an ideal and obvious choice for non-drinkers who want to savor sweet libation. According to the Washington Post, 1 in 3 Americans do not drink alcohol, and Welch's is looking to cater to that demographic with their launch of Sparkling Rosé. Booze or not, I'm here for it. They've really out done themselves with this release. Not to mention, the pretty pink bottle topped with shimmery foil is the perfect thing to bring to your next family gathering, that birthday party for your BFF's 5-year-old daughter, or your co-workers baby shower.
Wine connoisseurs and non-drinkers alike seem to agree that Welch's Sparkling Rosé is a much-needed addition to vast lineup of pink-colored wines on the market. Now you can enjoy your favorite summer beverage without the aftereffects of alcohol.
If I were you, I'd hurry off to the store and pick up several bottles in case it sells out. TBH, you just never know when you might need a sip of bubbly without the booze. So go ahead: Kick back, relax, pour yourself a glass, and rosé the day away — because there is never a bad time to indulge in Welch's Sparkling Rosé. Cheers!