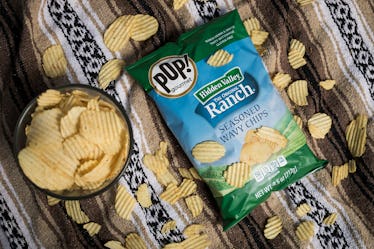 You Can Now Buy Hidden Valley-Flavored Potato Chips, Because Ranch Is Life
Courtesy of POP! Gourmet
In the last few years, you've most likely noticed that ranch has slowly started taking over the culinary world, one step at a time. It went from merely being a popular salad dressing to finding a home as a go-to dip — and it's even become a well-regarded pizza topping. Now, the ever-so-popular flavor is spreading to the realm of snack foods. If you want to taste for yourself, check out where to buy POP! Gourmet Hidden Valley Ranch Potato Chips. They're salty, crunchy, and seriously out of this world.
I hate to say it, but, for years, I was anti-ranch. In all honesty, I don't think I had ever tried it, and I wasn't wild about how it looked. But, after eventually willing myself to try a few bites of carrots, chips, and 'za dipped in ranch, I fell head over heels for it. And, as you'd imagine, my feelings about POP! Gourmet's new Hidden Valley Ranch seasoned Potato Chips are extremely positive, as well. I've had my eye on them ever since they were spotted back in May 2018 at the Chicago Sweets & Snacks Expo. Thankfully, they're finally here, at long last, and they're oh-so glorious.
As of Thursday, Oct. 18, POP! Gourmet's Hidden Valley Ranch seasoned Potato Chips and Popcorn will be available in a "select major" grocery stores, according to a press release. Per POP! Gourmet, the new Hidden Valley Ranch seasoned Popcorn and Chips actually started appearing on store shelves the week of Oct. 8. If you can't find them in your local store, however, don't worry — they'll be rolling out to even more grocery locations nationwide, this fall. If all else fails, though, as of Oct. 18, they're also available for purchase online, so, the bottom line is: be prepared for the snack sesh of a lifetime.
In a press release, POP! Gourmet's Executive Vice President of Operations, James Jang, said that both of these tantalizing ranch snacks were inspired by America's undying appreciation for Hidden Valley. Both the taters and the popcorn are super flavorful, and they manage to stay true to the sour-salty flavors of the popular dip everyone has come to know and love.
In the press release, Jang said:
Ranch-enthusiasts nationwide should be very excited. We carefully crafted Hidden Valley Ranch seasoned Popcorn and Chips to embody the delicious Hidden Valley Ranch flavor. Every bite explodes with the classic ranch taste that people everywhere love so much.
If you're all about showing off your relentless appreciation for Hidden Valley Ranch, however, the beloved dressing and dip brand debuted an entire line of Christmas clothing last year. Yes, you heard that correctly, and it was everything I ever wanted. Between an ugly Christmas sweater, a sweatshirt, several pairs of socks, and slippers, ranch fashion was all the rage last holiday season. They even offered a festive ornament, along with a glorious ranch fountain, and, of course, a mini ranch keg for all of your dipping needs. TBH, it really changed the game, and I wish I got my hands on some when it came out.
Ranch is (rightfully) all the rage right now, and I couldn't be happier about the fact that there's now ranch-flavored potato chips and popcorn. Dip the chips in ranch for double the fun, or experience the taste by eating them solo. Regardless of how you decide to enjoy them, don't forget to share — the delicious ranch flavor could legitimately make someone's day.