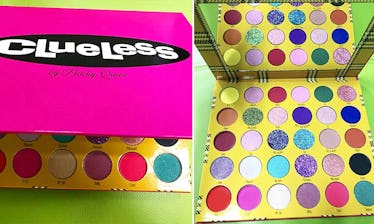 A Massive 'Clueless' Eye Shadow Palette Exists & OMG, I'm Totally Buggin'
peachyqueenblog on Instagram
I felt super old when Clueless celebrated its 20th anniversary in 2015, and now I feel even older because that was already three years ago. But the fact that the movie was released when I was five years old means it will always bring back those feelings of nostalgia. Because of that, I always take every opportunity to quote the movie in casual conversation, watch it on girls nights, and recreate Cher Horowitz's outfits at Halloween parties. Now there's a product that can bring her style beyond your costume-party wardrobe. So, listen up my Bettys, here's where to buy Peachy Queen's Clueless palette.
The brand Peachy Queen posted a sneak peek at the palette on their Instagram. "Get the look of Cher & Dionne with this Clueless inspired palette. 💅🏻 Whether you are doing a makeover, going shopping at the mall or rollin' with the homies 🍃💨 this palette is totally versatile & you'll look like a full-on Monet 👩🏼‍🎤." They also add that the shadow colors will "make you feel like a spoiled 90's Beverly Hills teen. 🧖‍♀️ The palette comes with a large mirror to make sure you look like a total Betty. The perfect palette to go with your Calvin Klein dress, platforms & faux fur."
If you haven't seen the throwback-inspired eye shadow palette by Peachy Queen yet, prepare to meet the messiah of Clueless merch. It's a 30-shade eye-shadow collection that comes packaged in a hot pink palette with the Clueless movie logo printed on the top. The inside of the palette is a yellow plaid print that matches Cher's signature outfit (you know, the one she picks out on her computer).
But perhaps the best part of the entire palette is the theme shade names. Here are some of my personal faves:
"As If" — matte bright yellow hue
"Whatever" — shimmery frosty lavender
"Rollin' With The Homies" — matte deep purple
"Oops, My Bad" — blue and purple glitter
Other shade names include "Existential," "Makeover," "Way Harsh, "Full On Monet," and "Total Betty." Is it just me, or are those names enough of a reason to get your hands on the palette?
Peachy Queen's other makeup offerings on their site include trendy eye shadows, like a mermaid-inspired palette that houses shadows in shapes of scales that looks similar to the Tarte Be A Mermaid & Make Waves Eyeshadow Palette ($42; sephora.com) and novelty makeup brushes, including a set that resembles the Storybook Cosmetics What's in a Name Rose Brushes ($48; storybookcosmetics.com) that Beauty and The Beast fans were going gaga over.
However, it's currently unclear whether Peachy Queen actually got permission from Paramount to make and sell Clueless-branded merchandise, but I'm thinking probably not. I would just guess that if Paramount was going to collab with a brand, it would be a more established name that is carried in multiple retailers. If Peachy Queen didn't take the proper steps to market a Clueless-themed makeup palette, the production company could probably put a stop to the manufacturing and sale of it ASAP, but what do I know? I'm not a litigator — I don't get paid $500 per hour to fight with people.
The indie makeup brand has just made the colorful Clueless-inspired collection available for pre-order for $40 on their website, but as someone older, can I please give you some advice? Sign up right away because I can just imagine how many Cher Horowitz fans are already jumping at the chance to get their hands on this palette. Besides, if Peachy Queen in fact doesn't have rights to the Clueless name, you might need to be among the first to get it before purchases get cancelled. All I'm saying is get it now, while it's still way existential.