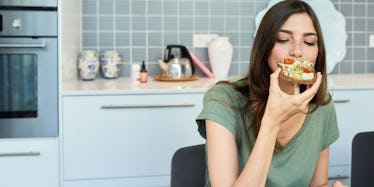 Here's What Your Lunch Order Reveals About Your Personality, In Case You're Curious
Who agrees with me that the best part of the work day is lunchtime? From comforting, hearty soups to crisp, nourishing salads to deliciously filling sandwiches, the options are endless when it comes time to take a break and grab a bite. Have you ever wondered what your lunch order reveals about your personality, though? If not, it's probably because you were too busy honoring your true millennial nature and snapping a mouthwatering #foodporn pic for your Instagram page. But the truth is, your lunch order might say a whole lot more about you than you'd think.
I don't know about you, but I often struggle so hard to figure out what to eat for lunch every day. I'm a creature of habit, so I tend to rely on the same meals a lot of the time, but honestly, I've never thought about what these choices might say about my personality. For instance, have you ever considered that your love of all things carbs around lunchtime might low-key be an indicator of where you're from? (Hint: it starts with a B.) Or that, if you crave soup all the time, it could mean you're seeking a sense of comfort?
Of course, don't feel like you need to read too much into these things. At the end of the day, all that really matters is that you're eating foods that make you feel your best and most satisfied. But if there's a lunch order you find yourself returning to time and again, here's what it might say about your personality.