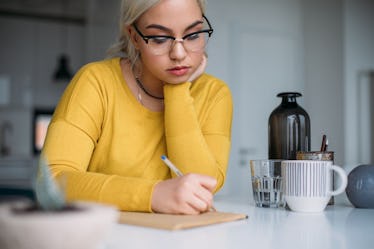 Here's What Your Handwriting Reveals About Your Personality, According To An Expert
When you're asked to sign for a package or the customer's copy of a dinner receipt, how do you pen your signature? Writing your name on various documents becomes almost tedious in adulthood, so you might hastily scribble your initials down if you've got somewhere to be, or maybe you take the time to dot your i's and cross your t's. Like a fingerprint, your handwriting is your own, and though you might not think twice about it, your handwriting says a lot about your personality, and even where you are in life.
Take the Duchess of Sussex, for example. Meghan Markle is expecting her first child with Prince Harry by spring 2019, and along with Markle's new baby bump, some people have noticed a slight change in the Duchess' signature, of all things. According to Cosmopolitan, some handwriting experts are associating the differences in her penmanship with the little baby on board.
Personally, I'd never considered the possibility that something as second-nature as the way you write your name on a piece of paper would develop to reflect the ways you have changed over the years, but according to certified questioned document examiner, Brenda Petty, that's exactly what happens.
According to Petty, your handwriting coincides with the unique experiences that you as an individual go through in life — but there's a difference, she says, between your cursive and your print. When you write in print, Petty explains, this means your conscious mind has control over your writing. Cursive, on the other hand, she tells Elite Daily, is recognized as "brain writing," in which the brain, or unconscious mind, does its own thing based on the storing and processing of information going on in that moment.
So if there's truth to the old saying "I think, therefore I am," and if your handwriting represents what you think and where you are in life, then I guess it all adds up, huh?
Here's what your penmanship could say about your personality according to Petty.