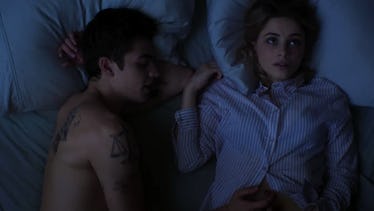 Here's What To Watch On Netflix On Valentine's Day, Based On Your Mood
Voltage Pictures
For some, Valentine's Day means an expensive, candlelit dinner. But for others, it means candy on the couch in sweats. If you're part of the latter contingent and wondering what to watch on Netflix on Valentine's Day, there are a wide variety of options out there to consider. So, to make your decision a little easier, here's a breakdown of options that will fit almost any mood you may be in on Feb. 14.
Valentine's Day is pretty polarizing; some people love the holiday while others despise it. That means picking the perfect movie takes a little bit of extra thought. If you're snuggling with your SO, a love story like About Time or 17 Again will make you feel all warm and fuzzy, whereas a steamy film like After will make you feel a little more... tingly. On the other hand, if you're spending the day sans partner or you just can't stomach fluffy love stories, a tale of revenge like You Get Me or a thriller like Gerald's Game will erase all visions of heart-shaped candies from your mind.
Whatever you're feeling, pull up your Netflix (OK, your ex's Netflix) and enjoy a night in celebrating with a film that feels just right for you.