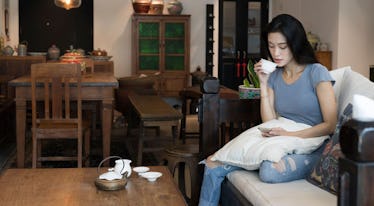 Don't Panic, Here's What To Do When Someone Ghosts You On Insta DM
It never feels good to get ghosted. Unless you seriously didn't like the person you were dating and you were looking for an out anyway, getting ghosted sucks. Getting close to someone and then suddenly cut off without explanation as to why? Brutal. Even if you aren't in the stage of your relationship where you're texting everyday, and instead, you're cruising in the DMs, when someone ghosts you on Insta DM, it's hard to know what to do next. Do you call them out on it? Unfollow them and pretend it never happened? Well, according to experts, social media makes for a whole different ballgame.
"Ghosting a person that you meet in an Instagram message is completely different than ghosting on a friend or partner that you have a real connection with," matchmaking and dating expert Stef Safran tells Elite Daily. "While it's easy to put a 'like' on Instagram, it's also easy to unfollow someone as well."
"People are not communicating with people via the phone or in person that much these days," Safran explains. "Since people have not met or spoken to people that they often share intimate details of their life with, many people don't feel that badly when they 'ghost' on someone."
Ghosting in the DMs isn't uncommon, but if it's just happened to you and you don't know what to do next, read on.