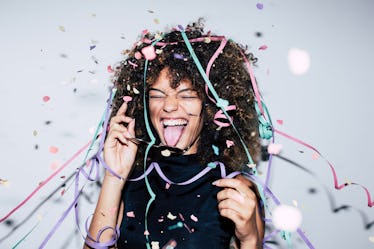 6 Ways To Have An Unforgettably Amazing New Year's Eve If You're Single
It's hard to believe that New Year's Eve is already upon us, but it's true. Even if you're still wrapping up your holiday shopping, you might already be looking to New Year's Eve and starting to make plans. Perhaps you've got a trip planned, or a fancy dinner reservation on the books, but if you're wondering what to do on New Year's Eve 2019 if you're single, look no further! If you're single and want to mingle, or if you're single and want to hibernate solo, there's a lot of fun and easy ways to ring in the new year.
There can be a lot of pressure around NYE, and if you're single you might feel extra pressure to make sure you have fabulous plans, or even set up a last-minute date in an attempt to score a smooch at the stroke of midnight. Just because you don't have a plus-one is no reason to avoid attending any party or gathering being thrown — your friends will be thrilled to celebrate with you. If you're single and thinking about staying home, it might be nice to have a plan for the evening to make it feel special and not just like any old night. By making even a small plan for your night in, you'll feel festive and celebratory, which is a perfect way to end this year. Read on for some great, single-friendly NYE ideas!