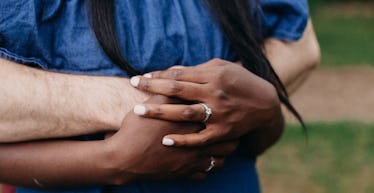 The 1 Thing To Do After Getting Engaged, According To Women Who Have Been There
Getting engaged is probably one of the happiest moments in your life. Someone loves you so much they want to spend the rest of their life with you! You want to celebrate. You want to shout it from the rooftops, you want to post on all of your social media accounts, and you likely want to begin wedding planning immediately. But when thinking practically about what to do after getting engaged, you may want to handle it differently.
Your emotions will probably be in overdrive with all of the excitement pumping through your body post-proposal. You may not even be thinking straight due to all of the happiness coursing though your body. But, take it from some women who have been engaged, there were some things they wish they handled differently. From telling family too quickly to breezing past how wedding financials will be handled, it could get way overwhelming real fast. I spoke to a few women on what they would advise other people do differently from their own experience.
Their main takeaway? Don't post on social media immediately after getting engaged. I know you'll want to, but just know that you'll get all of the likes and comments whenever you do post it on social, but you'll want to enjoy the moment with your fiancé(e) just between you two for some time. These women say people will flood your phone, which will distract you from one of the most exciting days of your life.
Read on to see what these women had to say.