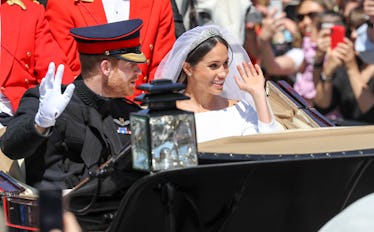 Prince Harry Reportedly Said The Funniest Thing To Meghan Markle On Their Carriage Ride
Matt Cardy/Getty Images Entertainment/Getty Images
Prince Harry and Meghan Markle just had the wedding of the year on Saturday, May 19. The two officially tied the knot at St George's Chapel, and in the name of tradition, the duo had an epic exit, and rode off into the (not quite) sunset in a horse-drawn carriage. If you were watching them ride off, you may have been wondering what the newlyweds were discussing. Here's what Prince Harry said to Meghan Markle during their carriage procession.
Although no by-standers could catch exactly what the newly weds were talking about in their 6.5 mile carriage ride, professional lipreader at 121Captions, James Freestone, told Cosmopolitan what the two were reportedly talking about... and it probably isn't what you were expecting.
The giant crowds and elegant carriage ride clearly left Markle completely awestruck. Her comments mostly revolved around the fact that there were so many people there were in the crowd, and she also noted the fans' sheer dedication to the royal family. I mean really, if you aren't used to this, it's a lot to take in. Freestone told Cosmopolitan that Markle looked into the crowd admiringly at one point, and said "Wow, how sweet."
At one point, Markle also apparently pointed to someone, and commented, "how busy." Although Markle was accustomed to fame in the realm of Hollywood, being showered in love by fans of the royal family is a completely new ballpark. So her surprised and enchanted reactions make total sense. All of this is an extremely unusual sight to see, especially if you aren't used to it.
On the other hand, this totally isn't Prince Harry's first rodeo. So obviously, he is pretty un-phased by all of this, attention. I mean, really, he was born to do this. So apparently, around 1:31pm, Harry whispered to Meghan, "I'm ready for a drink now." I always knew Harry was the most relatable out of all the royals, and I totally feel him on this one. Same, Prince Harry. Same.
Markle wasn't the only one who was completely wonderstruck by the post-wedding carriage ride, though — Twitter was obviously having a cow as it was happening. Twitter user @__tim_c tweeted: "#RoyalWedding game of thrones meets 2018." Honestly, it's so true and I love it. Between the giant crowds, horses, and British accents, the comparison really isn't so far off. Writer Lewis Parker, on the other hand, tweeted, "This sign from someone in the crowd on the BBC's #royalwedding," showing a picture of a sign from the crowd that read, "I married a ginger too." LOL, that's amazing. The carriage ride was definitely a sight to see, because there was a lot going on.
If you compare Prince Harry and Meghan Markle's carriage ride to Prince William and Kate Middleton's, you'll see that the two couples have very similar taste. Both wedded couples used the same name for their royal carriages, Ascot Landau. The only key difference was that they took different routes, and that Harry and Meghan's ride took 25 minutes, as opposed to William and Kate's, which only took 15. The carriage ride is a longstanding wedding tradition, and the fact that their procession was really similar is absolutely adorable.
I've been waiting for this day for way too long, and I couldn't be happier that it's finally here. Markle is clearly overwhelmed by everything that's going on (in the best way possible, of course), and while Prince Harry is thoroughly enjoying himself, it's clear he's ready to knock back a few brewskis. Luckily it's almost time for the reception, and he can definitely make that happen.