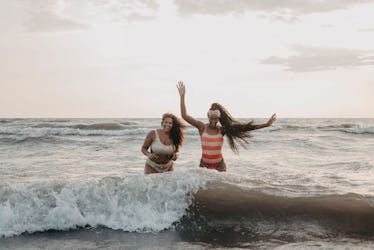 The Free Date Idea You Should Try, Based On Your Zodiac Sign
Let's face it: Coming up with date ideas when you're on a strict budget can be intimidating. But sometimes, the dates that don't cost you a dime end up being the most fun and memorable. Going out to eat or seeing a movie can be enjoyable AF, but free dates are truly about spending time with each other. If you're feeling blocked when brainstorming the free date idea you should try with your bae, consider consulting the stars. Your astrological signs can be helpful because they can point to activities that are suited to your personality and interests.
Planning your one-on-one time is all about focusing on what you and bae would enjoy doing together. Although some people may enjoy rides and picnics, you may not be particularly outdoorsy. Remember: There's no reason to do anything you don't want to do. Finding opportunities for free dates can also be an ongoing project. For instance, if you drive by a community garden or scenic outlook, bookmark it on your phone or in a navigation app. That way, you can find it again when you and your partner have some time to spend together. You can also search Facebook for free events in your area and plan a night out around those events.
For more ideas, consider the following dates for each sign.