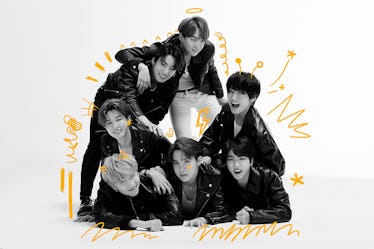 You Can Win Tickets To Attend A BTS Soundcheck During Their Upcoming 'MOTS' Tour
Courtesy of Big Hit Entertainment
There's nothing harder than trying to get tickets to a BTS concert. Soundcheck tickets were the first tickets to get sold out, but luckily for the BTS ARMY, there's still a chance to score those highly-desired seats. Here is exactly how to enter to win BTS soundcheck tickets, so make sure to take notes.
Fans had a few chances to score BTS tickets this time around. Official members of BTS' fan club had first priority, and ARMYs who successfully joined the verified fan pre-sale were up next. All other fans had the opportunity to buy tickets during the general sale, which began on Feb. 7. According to Forbes, just three days after tickets went on sale, BTS sold out seven of their 15 tour stops, which came as no surprise — the group was the highest-grossing touring group of 2019.
ARMYs were already excited to see BTS on tour, and now, with the release of Map of the Soul: 7, they're even more hype to hear the group's new music live.
In case some fans weren't able to purchase soundcheck tickets, there's still hope for them to get them by entering the Map of the Soul: 7 soundcheck sweepstakes.
Before fans enter the contest, there's a few important pieces of information to know. First, the sweepstakes is only for the following U.S. and Canada dates:
April 25: San Francisco @ Levi's Stadium
May 2: Los Angeles @ Rose Bowl
May 3: Los Angeles @ Rose Bowl
May 9: Dallas @ Cotton Bowl Stadium
May 14: Orlando @ Camping World Stadium
May 17: Atlanta @ Bobby Dodd Stadium
May 23: New York @ MetLife Stadium
May 24: New York @ MetLife Stadium
May 27: Washington, D.C. @ Fedex Field
May 30: Toronto, Ontario @ Rogers Centre
June 5: Chicago @ Soldier Field
Only legal residents of the U.S. and Canada who are at least 15 years old as of Feb. 21, 2020 are eligible to enter. If someone meets those requirements, they can participate in the contest in two different ways.
If fans have a physical copy of MOTS: 7, they can visit the contest's official website and fill out the form, which will require their name, email, age, city, zip code, and their preferred tour date for the soundcheck. On the bottom of the form, they can enter their album's unique 12-digit code and then press submit. This is known as a "purchase entry."
The other way is through the "alternative entry." This is for fans who don't have a physical copy of the album with a code. To enter, fans will need to follow the same steps as stated above, except they don't have to provide a code. According to the contest's official rules, the "purchase entry" and the "alternative entry" will be considered "entries" together and individually as an "entry," and only one entry is allowed per person.
For each tour date, 50 winners will be announced=. Each winner will receive a VIP ticket along with access to BTS' soundcheck.
The contest began on Feb. 21 and will end on March 23, 2020 at 11:59 p.m. ET. For more information, fans can check out the contest's official rules.
BTS will kick off their Map of the Soul tour this April, beginning in Seoul.