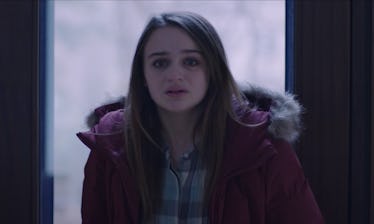 PSA: Add Joey King's New Movie 'The Lie' To Your Halloween Watchlist Right Now
Blumhouse
Be prepared to see Joey King like you've never seen her before. The Kissing Booth's star is making things how lot creepier in her latest movie The Lie. The thriller first premiered at the Toronto International Film Festival two years ago, but fans will finally get the chance to see it now. Here's how to watch Joey King's The Lie in the comfort of your own home.
Blumhouse, the studio behind horror hits like Get Out and The Invisible Man, produced The Lie in 2018, and it's finally getting released to the public. The Lie will premiere on Amazon Prime as part of the streamer's "Welcome to Blumhouse" series in October, just in time for a scary Halloween season. Based on the summary of The Lie, the movie will be perfect for putting audiences in a creepy mood. Here's the official synopsis:
When their teenage daughter (King) confesses to impulsively killing her best friend, two desperate parents (Mireille Enos and Peter Sarsgaard) attempt to cover up the horrific crime, leading them into a complicated web of lies and deception.
The trailer alone is enough to send chills down anyone's spine, as Joey King's character asks, "How do you undo something really bad?" When that something bad results in the death of her character's friend, the answer seems to be that you undo it with a whole lot of tense family drama. You can check out the trailer below:
Fans know and love King from her starrring role in the bright and happy rom-com The Kissing Booth, so her dark turn in The Lie might be a bit of a shock for some. But this isn't the first time King has taken on a new type of character. In 2019, King starred in The Act on Hulu and played real-life Munchausen syndrome by proxy victim Gypsy Rose Blanchard, who pleaded guilty to the second-degree murder of her mother in 2016. Right around the time The Act premiered, King told Refinery 29, "I'm really excited for [audiences] to see me in a completely different light." It's safe to say The Lie will allow audiences another glimpse of what King can do as a performer.
You can watch The Lie when it premieres on Amazon Prime Video on Tuesday, Oct 6.