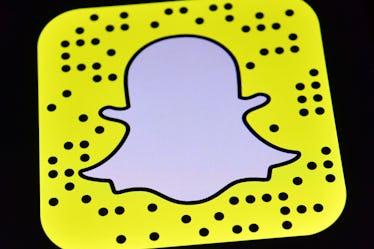 You Can Now Use Snapchat Filters On Your Cat For The Cutest Snap Ever
Carl Court/Getty Images News/Getty Images
No matter how divided the current state of the country may seem, there are two kinds of people in the world. And, no, it's probably not what you're thinking. There are cat people and there are dog people. Snapchat has gone to the cats with the invention of a brand new filter made just for you kitten. Not sure how to make it work? Here's how to use Snapchat's cat filters on your favorite feline for the cutest snap ever.
I don't know about you, but I've definitely tried (more than once) to use Snapchat Lenses on my pets. Full disclosure: I've never had any success. As a dog mom to two English bulldogs and cat mom to one rescue kitty, I'm pawing for a chance to include my fur babies in my daily Snapchat use. Now, thanks to a recent Snapchat update, I can.
To start, open up your Snapchat app. It should automatically open up to the camera screen. Just as you would for any other filter, touch and hold down on the camera screen until you see the Lens Carousel appear toward the bottom of the screen. Once the Lens Carousel pops up you can let the fun begin. Just based on my own testing, it doesn't seem like any Lens will work. It's got to be a cat-specific Lens created by Snapchat. (Oh, the things that people do for their pets.)
To find a Lens that works with your cat, swipe to the left in the Lens Carousel. You'll need to swipe twice to get to the right filter. Having trouble? The Lens preview features two pieces of toast with a hole in the middle for your face. You'll know you found it when the words, "Try with your cat" pop up in the middle of the screen.
Now that you've found it, it's time to put it to good use. Oh, and this kind of goes without saying but make sure your cat is nearby. Mine wasn't. I had to go looking for my cat, Lila. I found her sprawled out across the back of my couch near a sunny window. She couldn't be bothered to wake up and participate, so I did my best to work around her afternoon nap. Once you've got the Lens cued up, hold your phone toward your cat so that the animal's face appears. You should see a piece of bread pop up and all you need to do is center your cat's face in the hole, click, and either send to your friends or add it to your story.
You may have noticed that the Lens icon features two pieces of bread. That's because you and your cat can get in the picture together. I'm not saying you should print this picture for your holiday cards or anything, but isn't it nice your cat can finally experience Snapchat for all that it is? Your Snapchat game is about to step way up, because these filters are clearing the way for a total cuteness overload of cats.
If you're one of those people I was talking about earlier who is only a dog person, well, Snapchat hasn't created anything for your pooch just yet. Hopefully this new Snapchat filter for cats is a sign of good things to come for dogs. For the record, I did try to use the Snapchat cat filter on one of my dogs and it didn't work. So for anyone who thinks you can cheat the system, I'm here to tell you I tried and you can't.