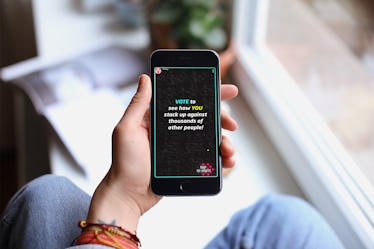 This New Daily Poll On Snapchat Will Help You Keep Up With All The Latest Trends
Wishbone
If you enjoy comparing trends on reg', then you're probably familiar with polling app called Wishbone. With the launch of its new Publisher Story on Thursday, Sept. 13, you can use Wishbone on Snapchat's Discover Page to vote on the latest fads. It sounds like the perfect way to keep yourself up-to-date, and I'm ready to start polling.
If you're not familiar with Wishbone, let me give you the lowdown. The app lets you vote on an array of cultural topics, and shows where your answer ranks amongst millions of other Wishbone users. It's basically a fun way to keep yourself abreast of trending subjects (and, of course, to compare your opinions to everyone else's).
Now that you know a little bit about the app, you're probably wondering where you can find the Wishbone Publisher Story on Snapchat. In order to locate Wishbone's Story, open Snapchat and head to the Discover Page. You can locate the Discover Page by opening your Snapchat camera and clicking on the two rectangles at the lower righthand corner of your screen. Once you've done so, you should see Wishbone's Publisher Story waiting for you.
Once you find Wishbone's Story on Snapchat, you can start voting. The app will provide a Publisher Story each day with 12 different polls, Benoit Vatere, founder and CEO of Mammoth Media (the company behind Wishbone), tells Elite Daily in an emailed statement, so you're definitely not going to get bored. According to Wishbone, the polls will be curated specifically for Snapchat's audience, and cover topics relating to fashion, pop culture, politics, and more. Plus, there will be side-by-side comparisons available for users to vote on, which will surely mix things up a bit. After you vote in a poll, you can share your opinions with your Snapchat friends. Pretty cool, right?
Vatere also talked about the exciting Wishbone x Snapchat collaboration in a press release. He said, "We're thrilled to create Wishbone's signature style of content exclusively for Snapchat, and make the content our young audience loves available on the platforms they're on." Vatere continued, "With our expertise in highly engaging content and appointment viewing, we're the perfect partner to provide Snapchat users with another way to explore entertaining Discover content right from their phones."
There's one thing you should know before you start your Wishbone Publisher Story pursuit: You don't have to download both Snapchat and Wishbone in order to partake in the polls. In fact, all you'll need is Snapchat. So, if you haven't already, go ahead and download Snapchat for iOS or Android. Then, you'll have access to Wishbone's Snapchat Publisher Story — and all of the polls. It's that easy.
Of course, you can download Wishbone externally, too. I'm just saying that you don't need it in order to use the app's Story on Snapchat. But the more voting, the better... right?
Editor's note: This post has been updated to reflect that Wishbone's Publisher Story on Snapchat is not an integrated feature.