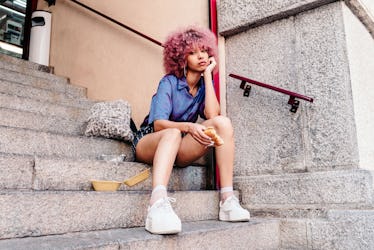 Here's How To Tell Your SO You're Feeling Bored In Your Relationship
Being in a long-term relationship is great for so many reasons. You probably feel like you've found your ultimate ride-or-die; someone you can do life and have adventures with. They're also the person you can do absolutely nothing with and still feel totally comfortable and natural. While that last bit is awesome (especially when life gets hectic and you just want to turn off for a little bit) too much of that comfort might lead to something else: Boredom. Thinking about how to tell your partner you're bored in your relationship without hurting them or making them feel like you don't love them or aren't happy with them anymore can be super tricky, and potentially just as awkward as it sounds.
Here's the good news: You are far from alone in feeling this way. "All couples can settle into a rut. This is normal," Susan Winter, a NYC relationship expert, love coach, and author of Breakup Triage: The Cure for Heartache, tells Elite Daily. "Boredom occurs through repetition. Are you and your partner watching Netflix every night? Hanging with the same friends? Doing the same things over and over? Getting out of your 'comfort rut' requires concerted effort, but it's well worth it." Here's how the experts suggest letting your partner know how you're feeling in the most loving and productive way possible.