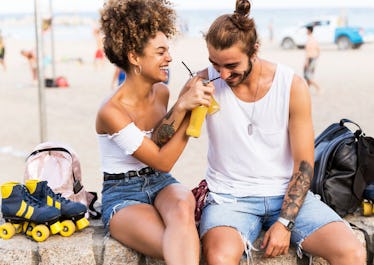 I Dare You To Try These 9 Pickup Lines Next Time You See Someone Cute At The Beach
I'm a big fan of describing a cranky person as having "sand in their vagina," because A.) it's funny and B.) nothing is more irritating than having sand in your vagina. In fact, I'd rather have a dude with kissy-kissy photos of his ex-girlfriend still up on his Insta inside my vagina than a bunch of sand, and that's saying a lot. Despite this potential pitfall, a trip to the beach can give you a healthy dose of negative ions, salt-tousled locks and maybe, just maybe, a chance to flirt. Summer is perfect for fun, flings, and flirting, so read on to find out how to talk to someone at the beach.
Starting a conversation with a stranger is never easy, but luckily there are myriad pickup lines to choose from. You're probably used to flirting and being hit on in the usual scenarios: a party, a bar, or a party at a bar. Although every now and then there's an outlier situation, like the time a guy asked for my number while I was picking up my birth control at the drug store, we're generally most comfortable flirting with a stranger not in broad daylight. Let's be bold! A day at the beach presents many opportunities for interacting with cute humans, from lounging in the sun to crashing a volleyball game. Here are nine suggestions to help you figure out how to get your flirt on while working on your tan.