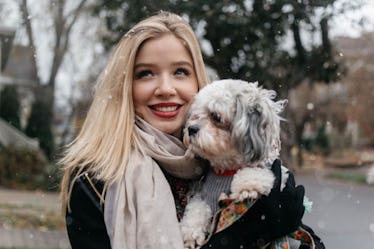 Protect Your Pup From The Cold This Winter With These 6 Vet-Approved Tips
If you don't live in a city that stays balmy all year long, chances are you'll need to take some extra precautions to make sure your pupper stays nice and warm throughout the winter months. When you really think about it, doggie noses and ears can get just as chilly as yours. It can sometimes be confusing to figure out how to take care of your dog in the winter, because it's hard to know exactly how warm your pup's fur actually keeps her, or whether the frozen ground is hurting her tiny paws.
Luckily, Dr. Daniel Edge, DVM, MBA, director of veterinary specialty operations for animal health company Zoetis, has a few suggestions to help you make sure your dog stays cozy and safe, even when the temperatures dip below freezing this winter.
Of course, as you follow all of these tips, don't forget the fun that you can have with your little guy during this time of year. Wintertime means you can shop for cozy dog scarves (yes, those are an actual thing, and they are magical), run through the snow together, and warm up side by side under the fluffiest blanket you can find.
Whatever the temperature, you'll always have a cutie pie to snuggle with as the snow falls outside (hopefully in matching Christmas sweaters). Here's how to take care of your pupper this winter.