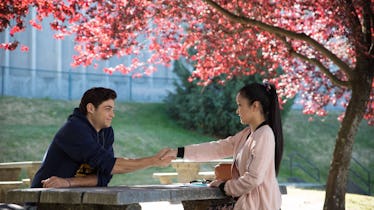 You Need To Listen To The 'To All The Boys I've Loved Before' Soundtrack ASAP
Netflix
To All The Boys I've Loved Before didn't need a killer soundtrack to make it a good watch, but the songs featured in the film definitely helped take it to another level of greatness. The movie is marked by poignant musical moments throughout (if you've seen it, you might recall one scene in particular had me tearing up featuring Tears for Fears) and the tracks seem carefully chosen to fit the scenes they serve as background in. Here's how to stream the To All The Boys I've Loved Before soundtrack if you're chomping at the bit for its standout tunes.
To All The Boys I've Loved Before focuses on reserved high school junior Lara Jean Covey (Lana Condor), whose box of love letters to all her crushes over the years gets mysteriously mailed to their recipients even though they were never intended to be sent. Indie band faves such as Blood Orange, Sarah Jaffe, and The Pains At Being Pure of Heart are all perfectly crafted choices that assist in telling Lara Jean's teenage tale of love and learning. Sadly, there's no Bon Iver present. (Fans of the film know there's a memorable reference to the sensitive rocker at one point in a moment of comic relief.)
There's no official album available for To All The Boys I've Loved Before at the moment, but Netflix's Spotify put out a playlist of many of the songs that got screen time in the popular flick. Additionally, TuneFind compiled a list of the tracks from the film. The site's blog even chatted with the music supervisors responsible for the movie's epic soundtrack, Lindsay Wolfington and Laura Webb, who offered up some insider intel on what went into curating the right songs to make the story shine.Warning: some spoilers ahead for To All The Boys I've Loved Before.
So, you know that pivotal hot tub scene? If you watched the movie, um... of course you do. It's set to a dreamy, synth-heavy melody by Norweigan singer Anna of the North. Wolfington elaborated on why her song was chosen:
Lindsay and I often talk and share epic love songs that we like. Some of our own personal favorite teen rom-coms stand out because of great songs that played during the big kiss moment. Anna of the North was a band that our coordinator, Kelly Austin, was a huge fan of. She pitched us 'Lovers,' and we thought it was the perfect blend of cool, sensual and emotional for the jacuzzi moment.
The detail that went into To All The Boys I've Loved Before's music makes complete sense — teen movie songs can make or break a special scene and take it from inconsequential to iconic. Can you imagine a world where "(Don't You) Forget About Me" didn't play in the final scene of The Breakfast Club? I don't even want to know what Say Anything would feel like if Lloyd Dobler held up his boombox and played something other than the so-not-cheesy "In Your Eyes." And to reference Sixteen Candles — a film integral to To All The Boys I've Loved Before — the Thompson Twins' "If You Were Here" only elevates that unforgettable Jake Ryan kiss.
To All The Boys I've Loved Before is currently streaming on Netflix. Don't be surprised if you fall in love with it and discover a few new fave songs along the way.