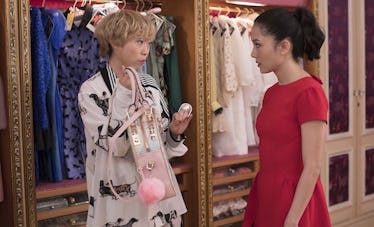 Here's How To Stream The 'Crazy Rich Asians' Soundtrack, Because It's SO Good
Warner Bros.
If you can't get Kina Grannis' epic cover of Elvis' "Can't Help Falling in Love" out of your mind since seeing Crazy Rich Asians, you're probably not the only one. The music from the film undoubtedly stays with audiences long after the delightful romantic comedy's credits roll, managing to add new levels of emotional depth to every scene. A solid soundtrack is integral to the cinematic experience, and Crazy Rich Asians' songs make the trailblazing film that much better. If you're wondering how to stream the Crazy Rich Asians soundtrack so you can relive the movie magic, you're in luck.
The CD version of the Crazy Rich Asians Original Motion Picture Soundtrack will not be available for purchase until Sept. 28. Fortunately, the music from the film has already been released digitally for download on Amazon. It's also on iTunes and streaming sites like Spotify and Tidal. The tracklist is below:
Waiting For Your Return – Jasmine Chen
Money (That's What I Want) – Cheryl K
Wo Yao Ni De Ai (I Want Your Love – I Want You To Be My Baby) – Grace Chang
My New Swag (feat. Ty & Nina Wang) – VAVA
Give Me a Kiss – Jasmine Chen
Ren Sheng Jiu Shi Xi – Yao Lee
Ni Dong Bu Dong (Do You Understand) – Lilan Chen
Wo Yao Fei Shang Qing Tian – Grace Chang
Material Girl (200 Du) – Sally Yeh
Can't Help Falling In Love – Kina Grannis
Wo Yao Ni De Ai (I Want Your Love – I Want You To Be My Baby)
Yellow – Katherine Ho
Vote – Miguel
Money (That's What I Want) [feat. Awkwafina] – Cheryl K
The millions of fans who saw Crazy Rich Asians know that the movie has a handful of Chinese language covers of catchy pop hits. Familiar melodies like "Material Girl," "Money (That's What I Want)," and "Yellow" all are represented by Asian artists in the film.
"I wanted to take hit American songs and make them Chinese, to give audiences a sense of how we feel as Asian Americans. That crazy blend of identities and cultures that makes up who we are. It felt to me like a critical part of what we were trying to do," director Jon Chu explained to Quartz of the poignant creative choice.
Music supervisor Gabe Hilfer had somewhat of a challenge on his hands when curating for Chu's specific musical ambitions, but it sounds like he left no stone unturned when it came to discovering the right set of tracks to bring Crazy Rich Asians to beautiful life. He talked to Mother Jones about the process, explaining,
The coolest part of my job is that every director wants something different. I riffed off Jon's initial playlist — he gave me all these covers, and a lot of the songs [in the film] were on his playlist. You just do a lot of research into music — whether that's watching old Chinese videos on YouTube and going down all these paths and finding out how these songs came to be.
Chu's vision and Hilfer's research definitely ended up making beautiful together. Once you've listened to "In My Feelings" for the 45th time, give the Crazy Rich Asians soundtrack a listen. Your ears and your heart will thank you.