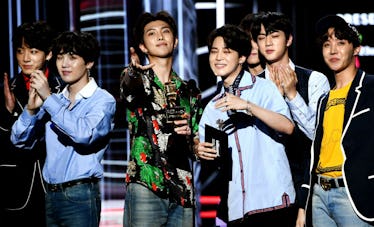 Here's How To Stream The 2018 Melon Music Awards, So You Don't Miss BTS' Performance
Kevin Winter/Getty Images Entertainment/Getty Images
Are you feeling blessed this month, ARMY? Because I am. It feels like it was just yesterday that Jungkook, Jimin, V, RM, Suga, Jin, and J-Hope took home the Daesung award at the Asia Artist Awards, and now the boys are gearing to up to blow our minds yet again when they hit the stage at the Melon Music Awards on Dec. 1. And, as always, international ARMY are scrambling to figure out when and where to watch the awards, so they can see the boys slay in real time. Well, have no fear — the awards will be more than accessible to I-ARMY. So, here's how to stream the 2018 Melon Music Awards!
But first, here's what you need to know about the Melon Music Awards (MMAs). The show is put on by Kakao M, a South Korean entertainment company that owns the Melon Company (the most popular music service in Korea). The 2018 MMAs will be held on Dec. 1 at the Gocheok Sky Dome in Seoul, South Korea, where the red carpet will start at 6 p.m. KST, with the show following at 7 p.m. KST.
Lucky for ARMYs, the show is broadcasting on JTBC 2, JTBC 4, Melon, kakaoTV, Daum, and the 1theK YouTube channel. So, all you have to do is click play below on the 1theK live stream to watch the ceremony go down in all its glory!
So, when should you tune in?
For U.S. ARMY on the east coast, Korea is 14 hours ahead of you, so you should tune in for the show on Dec. 1 at 5 a.m. to watch live. That's really not too bad. Set your alarm, grab a cup of coffee, and you'll be good to go!
Americans on the west coast will have to sacrifice a bit more sleep, however. Korea is 17 hours ahead of you, which means you'll have to wake up at 2 a.m. on Dec. 1 to catch the show.
But, I promise you, waking up before the crack of dawn will be totally worth it! According to Soompi, this year's theme is "My Story," and artists will have special performances that make fans feel like they're at their actual solo concerts. All your favorite K-Pop idols are going to be in attendance, from iKON, BLACKPINK, Wanna One, and Apink to MAMAMOO, Bolbbalgan4, and BTOB.
But here's what you need to know about BTS' participation on the night. For one, they're nominated for a whopping five awards: Best Artist, Best Album (for Love Yourself: Tear), Best Song (for "Fake Love"), the Netizen Popularity Award, and Best Rap/Hip Hop (for "Fake Love").
It's usually assumed the boys will perform one of their three popular singles of the moment like "Fake Love," "DNA," or "Idol," but there's a lot of speculation that the boys could have something special in the works considering the night's creative "My Story" theme.
Jimin, at least, seemed to tease something special on BTS' Daum fancafe when he wrote, "It's Melon Award Ceremony. You're looking forward to it, right?" He followed up with, "There are many things I want to show you guys. I'm nervous."
Ummmm, what?! Can the MMAs get here right now this instant?!
Sadly, there's still quite a bit of time to wait, so I guess I'll just watch the boys' 2017 MMAs mashup performance of "DNA," "You Never Walk Alone," and "Spring Day" on loop until then.